Discover Paul's Favorite Stocks for Your Chance at 300% Gains
in 12 Months!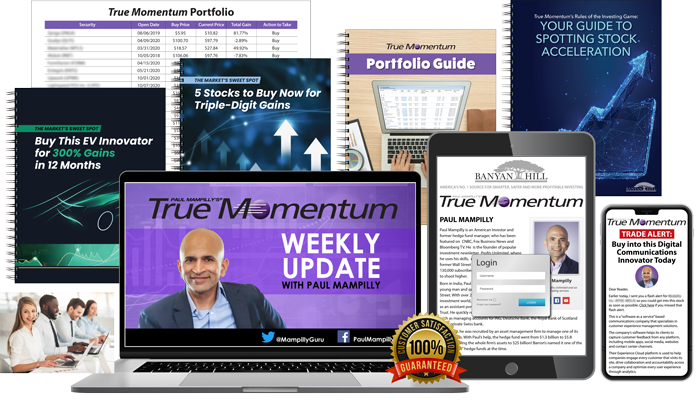 You're moments away from getting next-level access to Paul's best research.
True Momentum has smashed every benchmark over the last four years.
It has more than doubled the already remarkable returns in Profits Unlimited.
And it's your ticket to discovering next-level profits in your very own account.
Paul is promising you a minimum of 12 new stock recommendations this next year when you sign up today — each with the potential to climb 300% or more.
You will also discover the name and ticker symbol of Paul's favorite next level stock … an electric and autonomous vehicle innovator that will help this surging market climb to its next phase of growth.
This one stock alone could very well match the extraordinary returns Paul's readers have already seen in Tesla.
And it's just ONE of the many opportunities you'll discover.
Here's Everything You Get as the Newest Member of True Momentum
Weekly Updates
You will receive more than just stock recommendations. You'll receive Paul's weekly publication on the power of next-level stocks themselves, including anything you need to be aware of in the overall market or model portfolio. Paul will be your guide through this next step of your journey.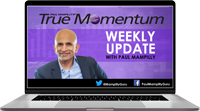 Trade Alerts (With Optional SMS Text Messaging)
Anytime you need to buy or sell a stock, Paul will send you a timely trade alert with specific instructions. He will tell you everything you need to know — including the name of the stock, its ticker symbol, and prices. These alerts will arrive by email, but you can sign up for text messages that will notify you whenever a new alert has gone out. This way, you can act on any recommendation the moment it's ready.
True Momentum's Model Portfolio
You'll discover EVERY stock Paul currently has recommended inside True Momentum. Each recommendation is personally vetted by Paul, and every stock has the potential to climb 300% in 12 months from the time of recommendation. The portfolio will be updated every day with new price data so you can track all your positions easily.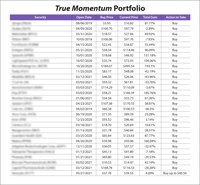 Special Report No. 1: Buy This EV Innovator for 300% Gains in 12 Months
The name and ticker symbol of Paul's favorite electric vehicle (EV) and autonomous vehicle stock is inside this special report. Paul says this stock's potential gains don't stop at 300% over the next 12 months. This is a stock Paul is confident could surge 1,000% over the next two to three years just like Tesla did. Getting this one stock could be worth the subscription price alone.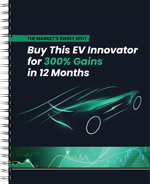 Special Report No. 2: 5 Stocks to Buy Now for Triple-Digit Gains
This report highlights five additional stocks Paul carefully selected from the existing model portfolio that he considers "strong next level buys." Out of more than two dozen stocks, Paul says these five are some of your best chances at 300% gains this year.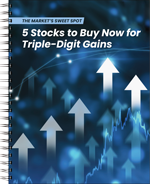 Paul's Guarantee: 12 Recommendations Minimum
Your subscription will be worth it — with a guaranteed 12 recommendations over the next year. That's a dozen stocks that have the potential to climb 300% or more in 12 months.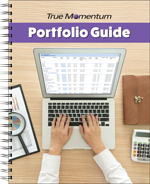 True Momentum's Rules of the Investing Game: Your Guide to Spotting Stock Acceleration
Everything you need to know about True Momentum is right here. You'll discover why this is one of Paul's favorite strategies for new and seasoned investors alike.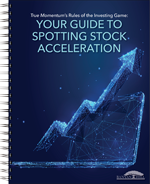 A Dedicated Customer Care Team
We have a team of well-trained and educated customer care representatives who can help you with any questions you might have about your membership.
Subscribe Today for

60% Off!
This is some of the greatest investment research on the market.
We are not aware of a single financial professional producing higher returns than Paul has in True Momentum.
He has more than tripled the annual return of the market while most professionals can't even beat it.
That's why True Momentum normally retails for $5,000 a year.
It's an incredible price for recommendations of this caliber.
Bear in mind — Paul used to charge a minimum $20,000 fee to invest with him on Wall Street — as well as an additional $20,000 for every $100,000 profit.
So $5,000 for Paul's best performing research to date is a steal.
Take it from subscriber Jack H. who is using the gains from True Momentum to buy a retirement house on the beach in Mexico:
I joined True Momentum shortly after it started [in May 2017]. I opened a new stock account and invested $40k strictly in these recommendations. [Three years later] this account crossed the $200k mark for a 400% gain.
Paul says 'find what matters to you and put the gains towards the things that make you happy.' I am taking $100k of the gains to complete the purchase of our retirement house on the beach in Mexico. Thank you for the great success.
Due to this level of success, we believe $5,000 for a one-year subscription is not just fair, it's worth it!
However, Paul has arranged a special new member discount for anyone who subscribes through this special offer right now.
Instead of $5,000, you pay just $2,995 $1,995, and True Momentum is yours!
Plus, if you subscribe today through this unique offer, you'll get a second year of True Momentum absolutely free!
That brings the average price per year to less than a thousand dollars, or more than $8,000 in savings.
To make this decision a no-brainer, you'll be covered by our 90-Day Satisfaction Guarantee.
If for whatever reason you are not satisfied with True Momemtum at any time in the next 90 days, call or email our dedicated customer care team and we will issue a full refund toward the amount you paid in the form of Bold Profits credit, good for any service Paul offers.
This offer is only available to the first 1,000 people who take action. Paul has over 100,000 subscribers in Profits Unlimited alone and plenty more inside Bold Profits Daily.
So we expect those 1,000 spots to go fast. Real fast.
To start the next leg of your journey with Paul — a journey that could lead you to 300% gains or more over the next 12 months — fill out the brief order form below.
Simply Fill Out the Form Below or Call 877-422-1888 to Get 2 Years of True Momentum For Only $1,995
(An $8,000 Savings!)