Team Up With Mike Carr to Target
100% Gains Every Week…
And the chance to CRUSH Bitcoin
Every Single Month!
Congratulations!
You're just moments away from joining Mike on his most powerful trading breakthrough to date.
One Trade is Mike's magnum opus… The end result of over 25,000 hours of market research.
His goal was to design the perfect trading strategy, and he's done nothing short of just that.
Every single week, Mike will recommend a new trade with the potential for 100% gains.
He'll do it all by recommending ONE trade on the S&P 500 each week. Mike's emails tell you exactly what to do and will arrive in your inbox during market hours every weekday.
If you decide to act on Mike's recommendations, you simply place the trade and wait until Mike tells you to sell.
It's that simple.
And that's just the core One Trade strategy.
As you've seen today, Mike's now bringing Bitcoin options to the table…
Giving you the chance to crush the performance of the best-performing asset of the last decade — enjoying 80% less risk along the way — with a monthly options trade on Bitcoin.
With Mike's One Trade research, you'll be able to target 100% gains every week…
AND a trade with the power to beat Bitcoin every single month…
All to potentially make more money in the next year than you ever thought possible.
In no shortage of words, One Trade is the last financial newsletter you'll ever need.
Here's Everything You Get the Moment You Join One Trade Today
Daily Briefings
Your subscription includes daily briefings from Mike. Each morning before the opening bell, Mike will deliver you a timely update on the upcoming market action. Once Mike's trade triggers, he'll send it straight to your inbox with precise instructions. Trade or no trade, you'll always hear from Mike every weekday before the opening bell with his latest market insights.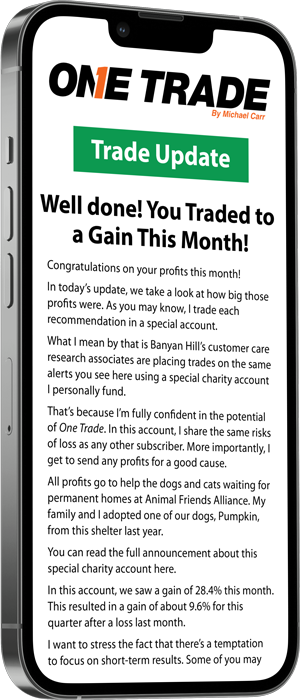 Dedicated Weekly Newsletter
At the heart of this research is a dedicated weekly newsletter from Mike. You'll receive an update on which direction Mike's volatility indicator is pointing, so you can know where to expect the market to head over the next week. It's also packed with market insights and expertise you won't find anywhere else.
Weekly Trade Recommendations
Mike's goal is to issue one to two trade recommendations per week, or a minimum of 50 trades per year. Each trade takes two days on average. (Since perfecting the strategy, Mike's produced standout two-day gains of 129%, 141%, 142%, 280%, and even 313%.)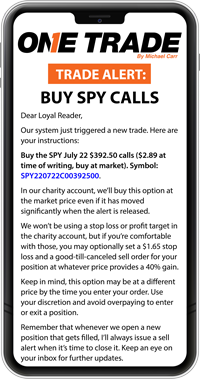 Monthly BONUS Recommendations on Bitcoin
In addition to a new trade recommendation on the S&P 500 every single week, Mike's now adding BONUS options trade alerts on Bitcoin about once per month. These trade alerts will use Mike's latest trading system, which produced a 43,000% return over the last seven years trading Bitcoin. Just as with his S&P 500 trades, you'll receive precise instructions as soon as a trade alert triggers.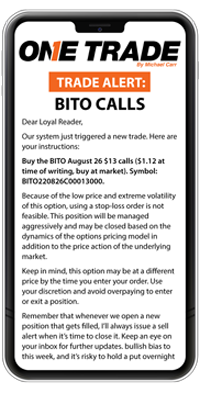 The One Trade Starter's Guide
Mike just put the finishing touches on this new trading manual so you can start making money right out of the gate. While there are no guarantees in the market, this manual tells you everything you need to get started.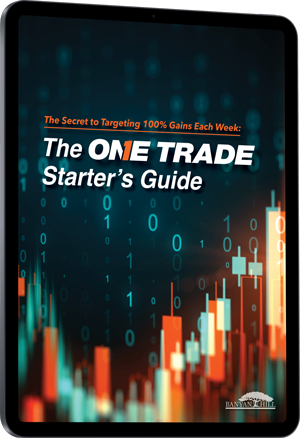 The One Trade Rulebook
This exclusive dossier includes a list of all 40 rules Mike has programmed into the One Trade system. These rules are Mike's best-kept secrets assembled over 20 years of professional trading. These insights are priceless and yours the moment you join.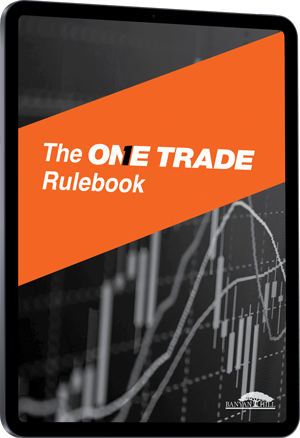 The One Trade Model Portfolio
Here you can monitor open positions, review past trades and see Mike's stellar track record.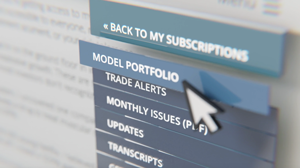 BONUS: A Complimentary Subscription to Mike's Premium Weekly Newsletter
The moment you join you get a complimentary subscription to Mike's premium weekly newsletter, Market Intel. Mike will share his thoughts on the market each week through this special research advisory. Folks who have subscribed to Mike's research in the past have called this extra benefit worth the subscription fee alone.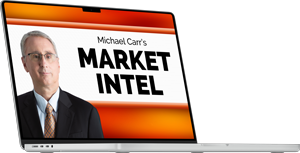 Three Brand-New Bonus Reports on Mike's Bitcoin Options Strategy
As part of your subscription today, you'll immediately receive three bonus reports that detail Mike's Bitcoin trading strategy — down to the exact parameters that make up the system.
The first is his Bitcoin Profit Blueprint. This extensive special report reveals exactly how Mike's system was engineered to deliver superior profits to buying and holding Bitcoin with a fraction of the risk.
Next up is Crypto Cash Machine. In this report, Mike reveals state-of-the-art behavior pricing models that perfectly articulate why crypto — and Bitcoin especially — is so easy to exploit using his newest system.
And finally, you'll receive Mike Carr's Systems Mastery. This elite dossier shows you exactly how Mike engineers his own trading systems from start to finish, and he'll teach you how you can do the same with the latest available technology.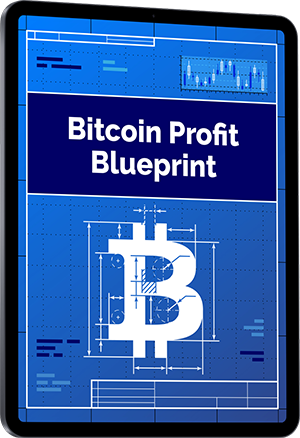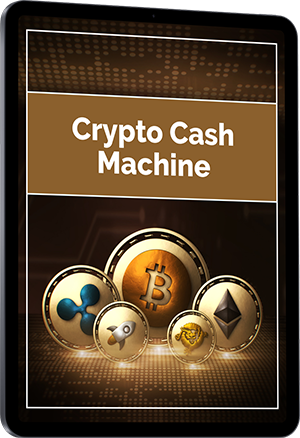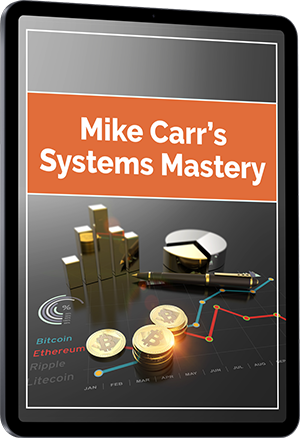 Each of these brand-new reports is valued at $500, but they're yours free with a subscription to One Trade today.
24/7 Access to the One Trade Website
You will receive a login and password the moment you join. This private, members-only web portal includes all past issues, trade alerts, the model portfolio, the rulebook, the trading manual and everything you need to put your One Trade subscription into action.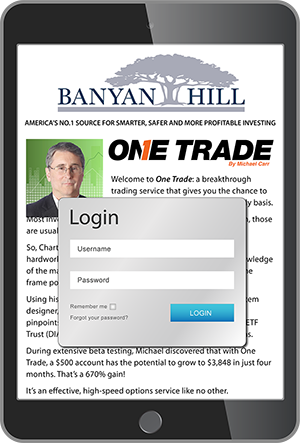 The One Trade Concierge Service
When you join One Trade, you become part of a very elite community. That's why we give you your own private member mailbag and a dedicated customer service team to help you with any questions you have about your membership.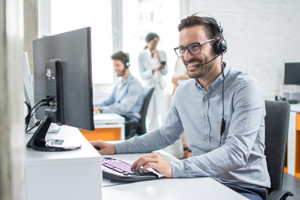 Ironclad Guarantee: Double Bitcoin or Make Twice What the Holders Lose
With Mike's brand-new options trading strategy on Bitcoin, Mike is fully confident that you'll be able to consistently beat the best-performing asset of the last decade. So he's adding an ironclad guarantee to your offer today.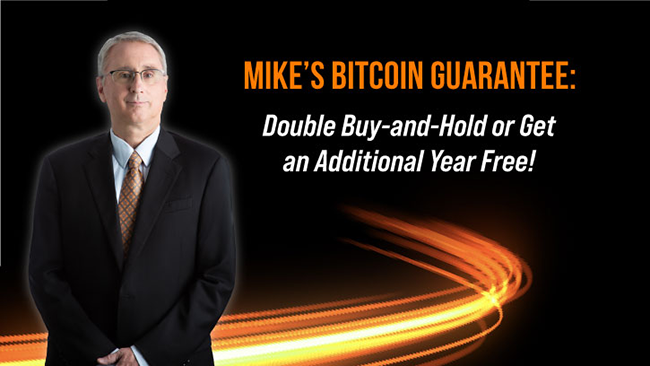 If Mike's Bitcoin options trades don't at least double the performance of buying and holding Bitcoin from your subscription date, he'll add another year free.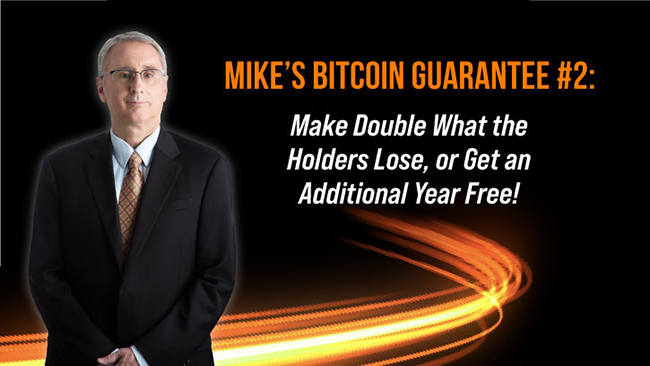 And if Bitcoin falls? Mike guarantees you'll PROFIT at least double the amount Bitcoin loses.
If these conditions aren't met, just call in to our customer concierge team with all the details and they'll happily add another year to your subscription.
100% Satisfaction Guarantee
If at any time in your first 90 days you decide One Trade is not for you, let us know and you will receive a credit toward the amount you pay today good for any other service at Banyan Hill.
Here's Your Chance to Double Your Money With One Trade
Mike Carr is in an elite class of his own.
As one of the top trading experts in the world, folks who attend the New York Institute of Finance pay as much as $800 per day to take his introductory course in technical analysis in hopes of becoming a better trader.
He's a member of the Chartered Market Technician Association and is one of a small handful to hold the rare designation of Certified Financial Technician. His work has been cited by the Chartered Financial Analyst Institute, and his original papers describing his trading philosophy have been auctioned for as much as $2,130.
When you factor everything in, we could easily justify charging $10,000 or more to get your hands on Mike's new research.
But we won't.
We decided that, now that he's adding his Bitcoin options strategy, the fair price for Mike's research is $7,000 for a one-year subscription.
But because this is the first time we're offering Mike's newest research, we want to give a special discount to those who join today.
We want this service to be accessible to everyone, whether they're starting with $1,000 or $100,000.
That's why a one-year subscription to One Trade won't cost you $10,000 or even $7,000 if you act today.
Today, we're slashing over $5,000 off the price.
Instead of $7,000, you pay just $1,795.
Considering everything you get, this is an absolute bargain.
Again, Mike guarantees you will have the opportunity to double the upside move in Bitcoin in one year — or profit twice the amount Bitcoin loses over the next year — or you get another year free.
That's the deal. Anything less, and your second year is on us.
That's like getting an additional $7,000 in value right back in your pocket.
Mike's Ironclad Guarantee: Double Bitcoin or Make Twice What the Holders Lose
Mike also guarantees you'll make at least double what Bitcoin returns over the next year. And if Bitcoin falls, Mike guarantees that you'll PROFIT at least twice the amount that Bitcoin loses!
Plus, no matter what, you're covered by our company's 100% satisfaction guarantee.
If at any point in the next 90 days you decide One Trade isn't for you, let us know and we'll issue a credit to the amount you paid — good for any other Banyan Hill service.
Because of this steep discount and the sheer number of valuable materials included in this offer, we cannot offer any refunds.
We want happy, engaged subscribers and we think you're going to be absolutely thrilled with Mike's new research.
Mike has spent his career working at the highest levels of finance and is one of the world's top trading experts.
People fly in to meet him from all around the world to learn how to become better traders.
And today, you have a chance to get a full year of his most powerful research to date at a fraction of the price.
To get Mike's most powerful research to date at this historic discount, fill out the short order form and claim your spot today!
Simply Fill out the Form Below or Call 877-422-1888 to Get Started for Only

$7,000

$1,795