You're just moments away from discovering the company at the
forefront of a potential $708 billion revolution…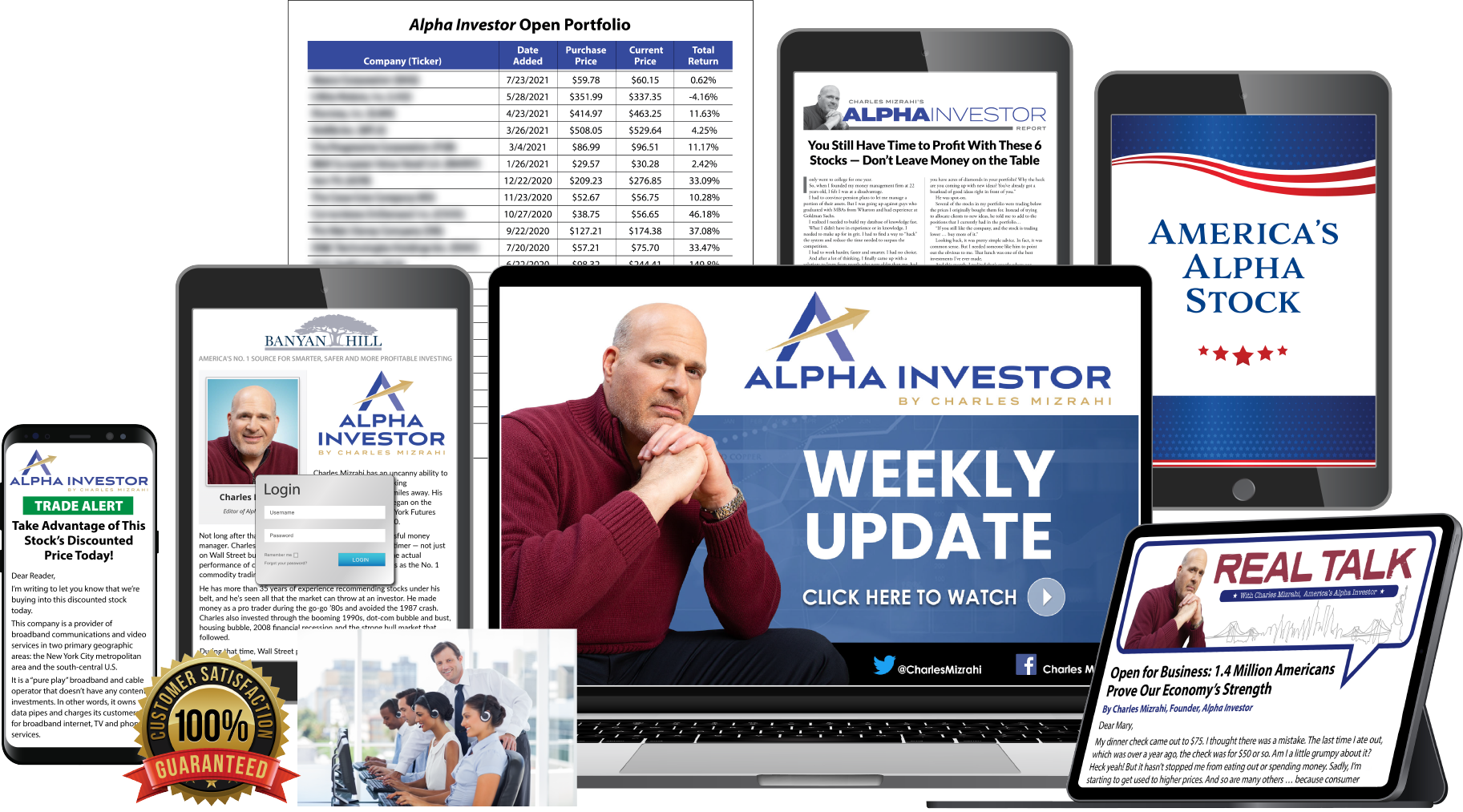 Your Offer is Reserved for:
Dear Fellow American,
You have the rare opportunity to join me, Charles Mizrahi, as I lead one of our most iconic national figures and thousands-upon-thousands of other Americans on the path to making fortunes.
They've already seen bigger gains in two weeks than most investment professionals make in two years…
Now you can too.
And it all starts with the chance to see how you could profit from a company that's poised to become a leader of a $708 billion market within 5 years.
In the last five years alone, this company's revenues have increased an average of $424 million a year. And its profits have soared to nearly $1 billion a year.
Talk about growth that is climbing off the charts…
They're conquering their market so quick, none of the competition can keep up.  Not even the likes of Home Depot can compete with it. They tried. And within a single year they gave up.
They're on the cusp of dominating a $708 billion revolution … and you have the chance, right now, to capitalize on every step toward the top that they take.
By recognizing opportunities like this before anyone else, I was able to post 113% gains in less than a year … and three-year returns of 313% during my time as a money manager on Wall Street.
And it's how I've gone on runs where subscribers of my previous research services saw 48 winning stock recommendations in a row, in a span of just 2 years.
My delivery of results like these year after year is the reason why Barron's once ranked me No. 1 among America's trading advisers…
And it's why I made MarketWatch's "10 Best Advisers" list.
Make no mistake: I helped my former Wall Street clients make a fortune.
But now, my mission is to help Main Street Americans get rich. I believe that millions of Americans could make fortunes. And you could be one of them.
I've prepared a special report to help you get started…
The moment you agree to give Alpha Investor a try, I'll send you my special report:
America's Alpha Stock: The Company Leading a $708 Billion Revolution
This report will give you all the details on the No. 1 Alpha stock I'm watching right now.
You'll get a much closer look at why I expect this stock to soar as high as 300% or more within 3 to 5 years. And why now is the perfect time to buy.
This company is rapidly becoming the dominating force in its industry.
In fact, its leaders have already demonstrated their unmatched experience by growing companies such as Home Depot and eBay into global powerhouses.
And big institutions are beginning to take notice: JPMorgan Chase scooped up 2 million shares and Blackrock reached in with both hands, buying up 9 million shares.
The time to move on this opportunity is now.
And I'll reveal the ticker symbol for you — along with my recommended "buy-up-to" price — so that you can have the chance to see gains of 300% in 3 to 5 years
In this free report, you'll learn everything you need to get in on this incredible opportunity.
True Alpha: How to Spot Stocks That Will Soar 5-Fold
Inside this report, I reveal an investing secret that very few investors have ever unlocked…
This secret, more than any other, helped me post 113% gains in a single year … and 313% over a three-year period … when I managed money on Wall Street for clients such as Goldman Sachs, Citicorp and Credit Suisse.
And it also helped me to show readers of my previous research letters peak gains of 827% on Microsoft in just 9 years, 711% on Atrion in 10 years and 653% from Huntington Ingalls within 8 years.
Now I want to share it with you.
You'll see this secret laid out in clear, full detail inside this special bonus report.
The Power of Compounding: How to Build a $1 Million Retirement
In this special report you'll see how $100,000 could grow to $1.5 million within 15 years, compounded annually at 20%.
Anyone who has ever had a checking account is familiar with compound interest. Like a snowball rolling downhill, over time, compound interest can grow your wealth like magic.
However, what many people don't realize is that a powerful hidden force in the market may be preventing their gains from compounding … and silently robbing them of a fortune.
In this additional bonus report, I'll show you how this hidden threat could silently eat away 53% of your retirement savings over the course of 40 years. 53%!
And I'll show you the simple step you could to ensure those extra compounded gains end up in your pocket instead of Wall Street's.
Each of these special reports has a $199 value…
That's An Additional $597 In Value!
Yours FREE When You Try a
1-Year Subscription to Alpha Investor
The company leading this $708 billion revolution gives you an unprecedented opportunity to take your first step on the path to prosperity…
And, Alpha Investor will keep you updated on the situation every step of the way.
Here's everything you'll get as member of Alpha Investor:
Twelve Monthly Research Briefings
This is the core of my research service. Each month, I'll send you an in-depth, eight-page briefing that examines current market trends and looks at which stocks you should buy to help you build wealth that lasts for generations to come. You will see what I see, hear what I hear and be able to think the way I think. You won't be able to find this level of expertise anywhere else. Readers have said this research is worth the subscription price alone!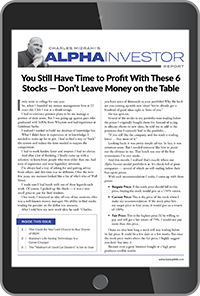 My Model Portfolio
This portfolio includes every stock that's on my "buy it now" list. It's extremely easy to use. It will tell you what I recommend buying, at what price and when I recommend selling. If a company passes all three Alpha Investing rules and could deliver gains of 300% or more within the next 3 to 5 years, I'm going to find it and recommend it.
Weekly Updates And Alerts
Every Wednesday, I send out a brief video where I'll update readers on the market, our positions and answer frequently asked questions so that no one is ever left in the dark. I want to use these updates to be there for you as much as possible!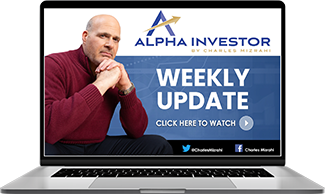 Access To The Private, Members-Only Website
All of your research briefings, special reports and my model portfolio are posted to a secure website. Nowhere you are in the world, you can track our positions, access my insights and stay ahead of the markets.
Daily Market Briefings
When you subscribe today, you'll also get a free subscription to my daily e-letter Real Talk With Charles Mizrahi, where you will receive unique, profitable insights from my entire team. You'll know what new opportunities, news and market events we have our eyes on each and every day.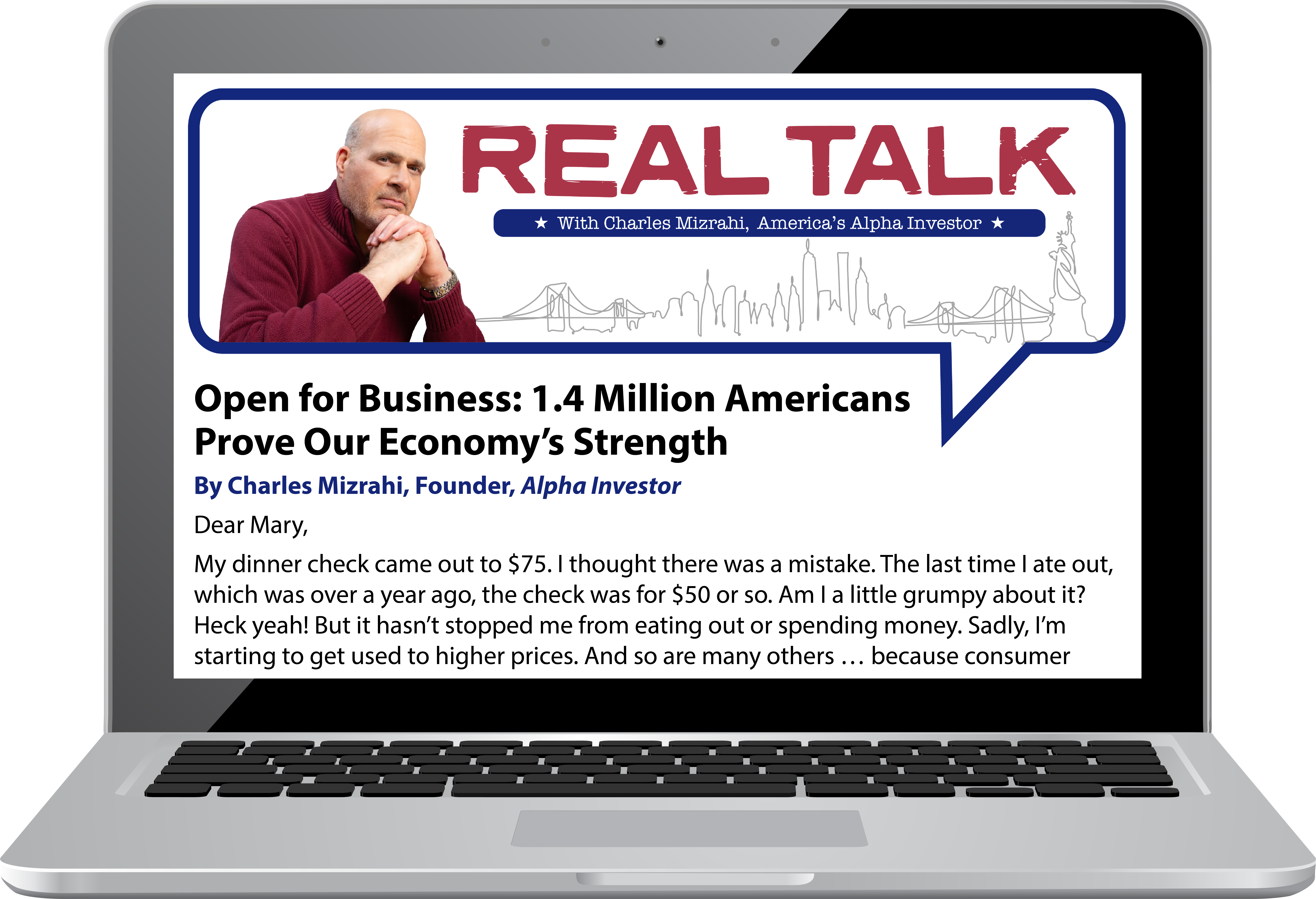 Dedicated Customer Care Team
If you ever have any questions about your subscription, simply call or email to let us know. They'll walk you through the details and benefits of your subscription.
The Bottom Line
You'll never be left in the dark, guessing what's around the corner. Following my insights and recommendations could help you build the kind of wealth … and unlock the kind of prosperity … that you deserve.
Alpha Investor is normally priced at $199 a year. And it's worth every penny.
Given that my former Wall Street clients needed a minimum of $1 million to invest with me … and happily paid tens of thousands in fees for the outsize, market-beating gains I generated for them, this is a bargain.
But I don't want anything holding you back today.
To remove any and all barriers that could prevent you from joining, I've slashed the price by more than half … and only ask that you pay $47 for an entire year of access.
That comes out to just $3.92 a month … less than the cost of a latté at Starbucks.
And the best part — you'll get it ALL with my 100% satisfaction guarantee.
I think you'll agree: that's as fair as it gets.
Plus, we'll even set you up for auto-renew so that you never miss a single monthly briefing or recommendation. At the end of your first year, your subscription will auto-renew at the discounted rate of $97 year. And no worries … if you prefer, you can opt-out of this feature at any time.
So what are you waiting for?
People from all across America have already subscribed.
Some are complete novices to the world of investments. Others are seasoned pros.
Some may be interested in how to start with just a few hundred dollars. Others may be starting with hundreds of thousands. And others still may simply want to learn about a more stress-free way to invest.
But they all have one thing in common … they decided to take me up on a risk-free subscription to Alpha Investor as their first step on their path to making a fortune.
Now it's your turn.
This is your chance to join me as I show you how to invest like an Alpha Investor.
Just a few minutes of insight from me each month … and you'll have the chance to take aim at gains of 100%, 200% and even 300% or more in the next 3 to 5 years … with greater ease and peace of mind than ever before.
Please Choose Your Subscription Level...