Acclaimed Wall Street veteran Charles Mizrahi has been helping Main Street Americans to grow their money in the stock market for nearly 40 years.
In 1987, he was one of the few Wall Street pros who saw the writing on the wall … and got his clients safely out of the market two weeks before the Black Monday crash.
In 1998, at the age of just 36, Barron's ranked him as the No. 1 trading advisor in the nation after he delivered a 313% return in just three years.
Next, he warned his readers of the impending housing bubble well before the 2007 to 2008 crisis hit … and showed them stocks that rose 177% in 24 months, 187% in 29 months and 130% in 17 months … even though they were recommended even as the markets crashed.
He even called bitcoin's peak in September 2017… just months before it crashed … and shared several BETTER moneymaking opportunities instead.
Mizrahi has been quoted by many of the nation's most serious financial news sources — including CNBC, The Wall Street Journal, Barron's and The New York Times.
Distinguished Americans and entrepreneurs such as John Schnatter, founder of Papa John's Pizza … former TV host Bill O'Reilly … renowned Harvard Professor Dan Lieberman … Governor Mike Huckabee … and retired U.S. Navy SEAL Darren McBurnett … have spoken with him about money, freedom, perseverance, success and the American dream on The Charles Mizrahi Show.
And he even gave Sarah Palin access to his insights … and was able to show her how to make more money in two weeks than most investing professionals make in two years.
Now, in his eye-opening new book, Charles Mizrahi is revealing his simple secrets for making life-changing gains no matter what is going on in the markets … or the daily headlines.
And not a moment too soon…
The craziness and uncertainty taking place in the markets … and our world … is enough to make anybody's head spin…
Social media hype drove Tesla up 1,297% in 24 months … and GameStop up 1,914% in less than four weeks — only for both to turn around and plummet in a matter of weeks.
A post-election high helped fuel a massive surge in tech stocks … which was soon derailed by an unforeseen plunge.
Soon after, rising bond yields began sparking fears of inflation…
Then it was the SPAC craze and the dogecoin cryptocurrency mania.
It's becoming harder and harder to know what you should invest in with each passing week…
But Charles Mizrahi has the solution…
Inside Wall Street Profits for Main Street Investors, Charles reveals the simple blueprint that anyone can use to slash the uncertainty and confusion and help grow their money regardless of what the markets, or the future, may bring.
More than 8 out of every 10 stocks he's recommended in his Alpha Investor research service have gone up despite the tremendous chaos and uncertainty of the past two years!
And it's all because of the insights, secrets and details you'll find inside your copy of Wall Street Profits for Main Street Investors — including:
The three words every investor should know before they buy a single share of stock. Revealed on Page 40.


Charles' shockingly simple formula for deciding if a stock … or any investment … is worth the risk. See Page 62!


Two words that can help turn even the most inexperienced person into a very successful Main Street investor. (Revealed on Page 67.)


The ONE SIGNAL Charles looks for above all others. (When it flashed green for Marvell Technologies, shares soared in a matter of months.) It's right there on Page 86.


Why Main Street investors who want to make money should never, EVER look at stock charts. See the shocking truth about stock charts on Page 84.


Which types of stocks have what it takes to thrive even if the unimaginable happens — like a crash or pandemic — and which ones don't. (Find out on Page 74.)


The REAL secret to Warren Buffett's wealth. (Hint: It isn't being a market wizard.) It made Buffett a fortune … and, on Page 55, Mizrahi reveals how it could do the same for you.


The bone-chilling truth about the Robinhood app, and why you should avoid it like the plague. Details on Page 41.


The No. 1 way most investors end up shooting themselves in the foot. This common, little misstep could cost you 75% of your profits … imagine slashing what could've been over a $1,000,000 retirement fund to just $250,000. See how to avoid it on Page 36.


The "magic" amount to invest in each stock. Too little and it could take you decades to make a fortune. Too much and you could get wiped out overnight. See Page 78.


Plus, 113 pages of much, much more!
And that's why you'll need to move quickly on this opportunity today!
The stock market is growing more chaotic and uncertain with each passing day … which makes the simple investing secrets and insights inside this book more important than ever.
You simply won't find a better roadmap from a former Wall Street insider with the kind of experience and track record that Charles Mizrahi has.
Ask yourself, where else will you get access to the moneymaking stock secrets of a pro who is showing his readers an 83% win rate regardless all the ups and downs of today's crazy, unpredictable stock market?
So don't miss out for another minute.
Charles believes today's rapidly shifting stock market — combined with the post-pandemic recovery — is creating several once-in-a-lifetime opportunities … opportunities that Main Street investors like you could use to build and absolute fortune.
And those who invest in the RIGHT stocks, right now could profit like never before.
Charles' new book isn't available anywhere else. Not even on Amazon!
It's valued at $49.
But, through this special offer, you can get a digital copy sent straight to your inbox, for $9.95.
That's right — just $9.95.
For little more than what you'd pay for one month of Netflix or Amazon Prime, this book could literally help to change your life.
Simply fill out your information and click the order button to get your copy of Wall Street Profits for Main Street Investors TODAY … for just $9.95!
Here's what subscribers of Charles' Alpha Investor stock-pick newsletter have had to say:
"We lost a lot of money going it on our own. Thanks to you and your very wise advice, the peace-of-mind we have is worth all its weight in gold. Oh, how I wish we had known about you 15 years ago, we would have been millionaires now. God bless you Charles, you are the best!!!" — Nancy and Roy T.
"Dear Charles, I am truly grateful to you. On October 16, I made my very first stock investments. I started with $41,000 and today I am up $50,000 in just over two months." — Karl B.
"I made a 71% gain in 9 months. Thanks!" — Jim M.
"Thank you for helping me through my retirement. God Bless you." — Samir F.
"Please, please keep up the good work. There are thousand, if not millions of small investors out there like me who need you. Thank you!" — Anthony W.
"My gains across my Roth IRA and taxable investing account are sitting at 90.4% for the year, thanks in part to you. I am so grateful!" — Katharine C.
"Charles, with your insights, I took $25,000 and invested it. Remarkably, it has grown to $30,000 in just 3 months. Thanks!" — James L.
"Thanks to your insights and recommendations, my son's account was up 107.12% for 2020. And mine was up 155.24%!" — William J.
"Charles, this is my first time investing on my own. You made it easy and fun. My investment has grown 49% overall in the last 10 months. I've learned a lot. Thank you so much." — Dodi F.
"I started following you and investing two months ago. I used $16,000 to start and have a profit of $1700 in 8 weeks. Thank you." — Ed U.
"You've taken the guesswork out of 'when' to buy a stock and the leg work out of 'what' to buy. Thank you." — Cindy G.
"This year was the first year I was really intrigued about investing in the stock market. I discovered you a few months ago and have already seen gains of 20 to 45%!! So grateful and excited I came across you Charles. Thanks for all you do!" — Joey R.
"I am up 12.5% in less than 5 weeks, thanks soooooo much. I love your approach on investing for the future and not just for a quick gain as many others are promoting." — Duane G.
"A quick thank you. You are one of my favorite gurus in the world of stock investing. I've done well because of you — at least over 30% in 2020!" — John D.
"I've been following you for almost a decade now, Charles, and man, am I thankful. I've relied on your insights for 90% of my investments and you've helped me make a lot of money. I came to the USA with 2 suitcases and a young family 23 years ago, and now I'm living the American Dream due in large part to you. God Bless." — Stuart A.
"I've followed you for a about a year now and all I can say is thank you. You've taken the fear out of my portfolio, and I only hope others will listen to you too. God bless you and yours." — Barbara J.
---
Simply Mark Which Edition You'd Like to Order, Fill in Your Information and Click "Place Order"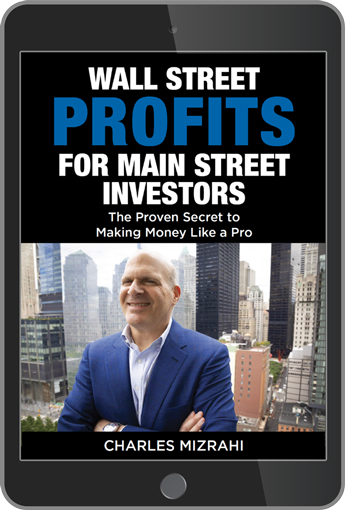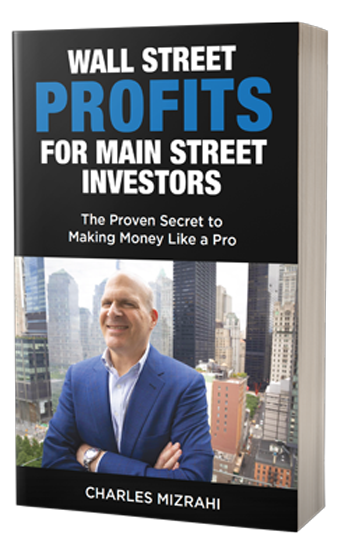 Special Bonus! Get a FREE subscription to Charles' digital newsletter Real Talk With Charles Mizrahi!
---