Yes, I Want Access to Charles Mizrahi's Alpha Investor!
I understand I will receive expert analysis and wealth-building recommendations straight from Wall Street legend Charles Mizrahi, including Trade Alerts, Portfolio Updates and 24/7 Access to a private members-only website.
I'm so glad you're here.
If you're reading this page, it means you're one step from getting your copy of my report…
The No. 1 Autonomous Vehicle Stock of the Decade…
Inside this report is my No. 1 LiDAR stock pick, which will give you the best chance at riding the 63,000% exponential growth in the AV market.
What's more—
You'll get all my future research, recommendations and updates as a subscriber of Alpha Investor.
This means you'll also get my in-depth analysis of all the mega trends happening this decade: artificial intelligence, genomics, biotech, 5G and of course … autonomous vehicles.
The Time to Invest in Mega Trends
Is Before Everyone Else Jumps In
Here's what makes Alpha Investor different: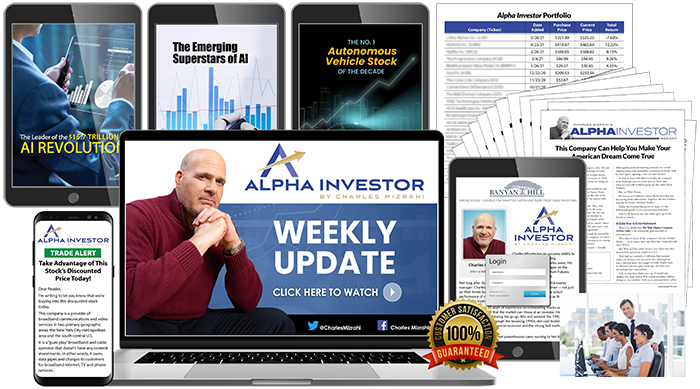 I've been spotting opportunities like these … ones that Wall Street talking heads seem to miss … for almost four decades now.
I don't have a crystal ball, I just see the signs that make a megatrend…
Like when cloud computing reached a critical point and I recommended Microsoft … now a 1,066% gain…
Or during the smartphone wars, I told my readers to get in on Apple … now a 670% gain…
And recently, as artificial intelligence heats up, my stock pick in II-VI has more than doubled already.
Seeing megatrends is how I managed to post 113% returns in a single year … and 313% returns over a three-year period for my former hedge fund…
Why I was once named Barron's No. 1 money manager.
And how I made MarketWatch's Top 10 Best Advisers.
In other words—
You're about to leverage my 40 years of Wall Street experience to help you build your financial future.
The best part is…
You Get This Special Report
FREE

When You Join Alpha Investor Today

When you get your copy of The No. 1 Autonomous Vehicle Stock of the Decade … you're not just getting a stock pick, you're getting research that will make sense and give you peace of mind if you invest.

And that's not all you get.

In addition to my report: The No. 1 Autonomous Vehicle Stock of the Decade…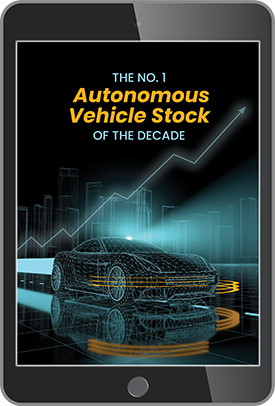 You'll also receive:
12 Monthly Research Briefings
This is the core of my research service. You'll get these reports in your inbox every month … each one containing a NEW stock pick for you to consider.
But I don't just tell you what to invest in. I also explain why the company is such a smart buy. You don't have to research a thing yourself. You hardly have to lift a finger. I lay it all out for you in black and white.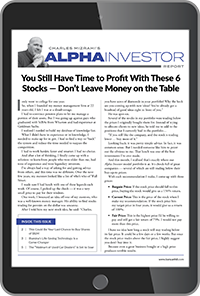 My Model Portfolio
These are the stocks I recommend buying — all listed out for you in one place.
All you have to do is read my research on the company and decide if it's the right investment for you.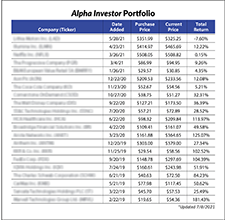 Weekly Updates
You're going to hear from me every week in my video updates. Think of it as a fireside stock chat. I give you a rundown on how the stocks in the portfolio are performing.
You'll also get special alerts from me when it's the best time to buy or sell … so you never have to worry about missing out on a big payday either.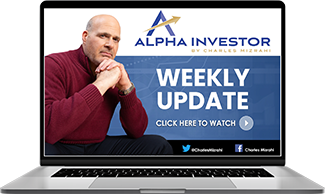 The Alpha Investing Manual
This report shows you exactly what to expect from me … and exactly what to do when you receive one of my stock recommendations. You'll be able to hit the ground running the very first day you become an Alpha Investor.
It's valued at $199, but you get it free when you join today.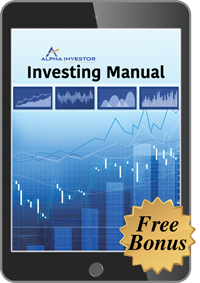 Access to a Private Members-Only Website
This puts all your research briefings, special reports, and the model portfolio at your fingertips…
This includes the six reports I promised you in the L5 Revolution video … such as my No. 1 picks for artificial intelligence, 5G, Internet of Things, e-commerce and one that will leverage a warming climate.
I want you to have my latest research at all times.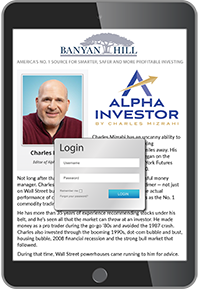 A Dedicated Customer Care Team
If you ever have any questions about your subscription … or if you need guidance on using any of the resources we're giving you … just give this top-notch team a call or send them an email. They'll help with whatever you need.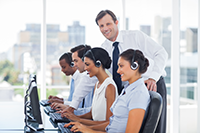 You Get Everything You Need to Start Making Some Real Money in the Stock Market … for Less Than the Price of Dinner for 2
It normally costs $199 a year to join Alpha Investor, which is a bargain given the research you would get. Hedge funds have been known to pay thousands for similar research. I know because investment banks have hired me for my insights and recommendations before.
But I don't want "price" to be the reason why anyone can't get their hands on my research. I quit Wall Street because I got tired of helping the rich get richer. I want to help everyday Americans. Americans I grew up with on the streets of Brooklyn.
That's why you're not going to pay that $199 fee. You won't pay half that either.
In fact, I've talked my publisher into slashing the price by 75%. That's $152 off. That means…
You can join Alpha Investor for a full year for just $47.
Give up just one cup of fancy coffee at Starbucks every month, and you've got the fee covered.
After that, we will automatically renew you at the rate of $79 per year.
And the best part?
There's no risk. I've made sure of that.
That's why you'll receive a 100% money-back guarantee.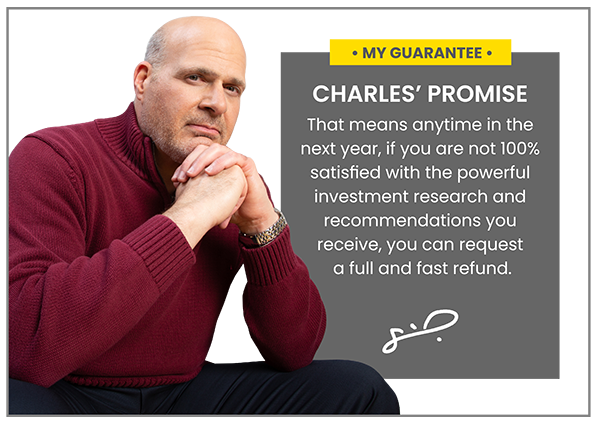 You can cancel your membership in Alpha Investor at any time — even on day 364 of your one-year subscription and you'll receive a prompt refund.
To me, this is a no-brainer. So, what are you waiting for?
Fill out the secure form below to access everything we've talked about.
I'm ready to help you make some serious money in the markets.
Simply Fill out the Form to Get
Alpha Investor For
Just $47

a Year