You Just Made It!
Here's Your Chance to
Profit from Ian King's NEW
Private SPAC Portfolio
Your Offer is Reserved for: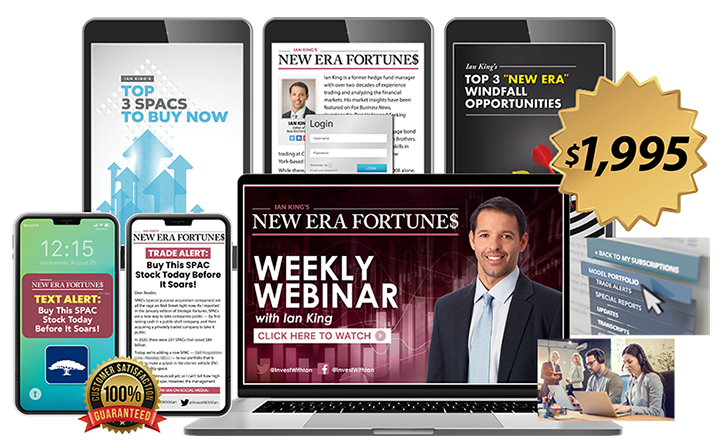 You're about to claim one of the limited DISCOUNTED spots in Ian King's explosive, small-cap research service, New Era Fortunes!
Your spot is reserved for the next 15 minutes while you place your order.
With more than 700 of the most innovative private firms in the world valued at $2.3 trillion or more that could soon go public…
You'll have plenty of opportunities to potentially rack up big gains over the next 12 months…
From fast-moving "pre-IPO" opportunities in Ian's Private SPAC Portfolio.
The SPAC market has already churned out gains like:
527% in the SPAC behind DraftKings in 10 months.

502% in the SPAC behind Virgin Atlantic in about a year and a half.

And 1,227% in the SPAC behind QuantumScape in just four months.
Now, for the next 12 months…
Ian will show you every one of the best opportunities he sees in this explosive new market.
Not just in his NEW SPAC Portfolio.
With Ian's New Era Fortunes, you'll have access to ALL his research…
Into more than 24 of his top small-cap recommendations…
Picks that have already shown subscribers peak gains of 269% in 14 months … 332% in 14 months … and 319% in just nine months.
Remember, do not invest more than you can afford to lose. Not every recommendation is going to go up this high.
But with average gains of 20% across 28 recommendations … and an average hold time of just six months…
That's more than double the S&P 500 — over the same time period.
And with Ian's help, you'll always know exactly what to do with his recommendations.
Here's Everything You Get as a NEW Member of New Era Fortunes
The New Era Fortunes portfolio:
This is one of the most important parts of your membership. As a member of New Era Fortunes, you will see ALL of Ian's research on every stock he has a buy rating on at that moment for the best chance at making 1,000% gains in as little as the next 12 months. Altogether, access to this model portfolio alone could run into tens of thousands in value — and you get unlimited access to it.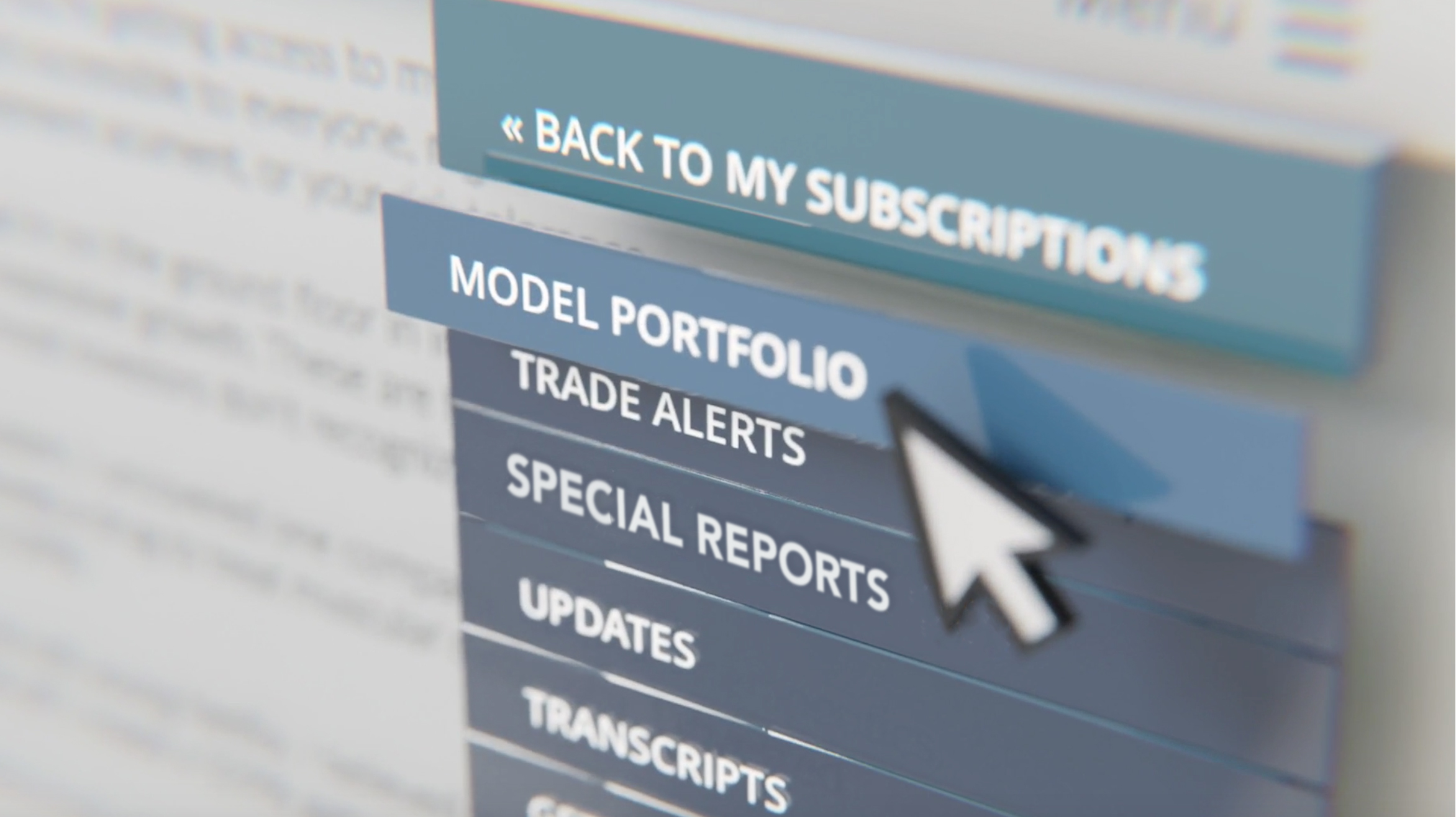 Free Report: Ian King's Top 3 SPACs to Buy Now:
You'll also get immediate access to Ian's brand-new Private SPAC portfolio. This includes Ian's top 3 SPACs to buy now. It contains world-class research on every SPAC Ian is recommending … along with detailed explanations about the private companies they plan to merge with. You'll benefit from decades of experience as Ian and his team dig through mountains of data for you, to find the most profitable opportunities in the SPAC market today.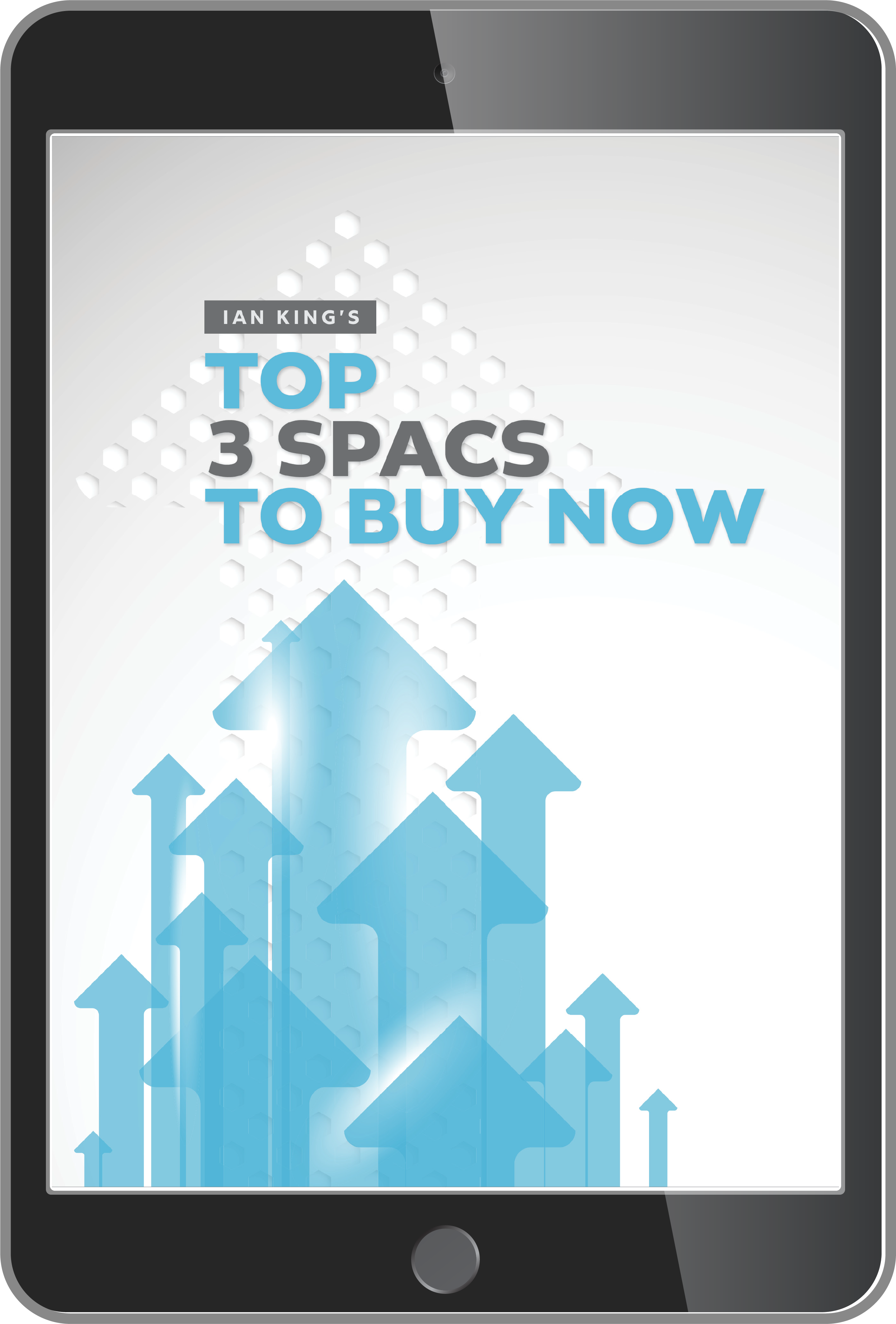 Free Report: Ian King's Top 3 "New Era" Windfall Opportunities:
With New Era Fortunes, Ian is focused solely on the most forward-looking, small-cap tech companies leading us into the constantly evolving "new era" of innovation. This confidential investment dossier reveals his top three small caps to own right now. Ian has vetted each of these stocks carefully, and he's confident the timing is perfect for each one of them to potentially make 1,000% or more in as little as the next 12 months.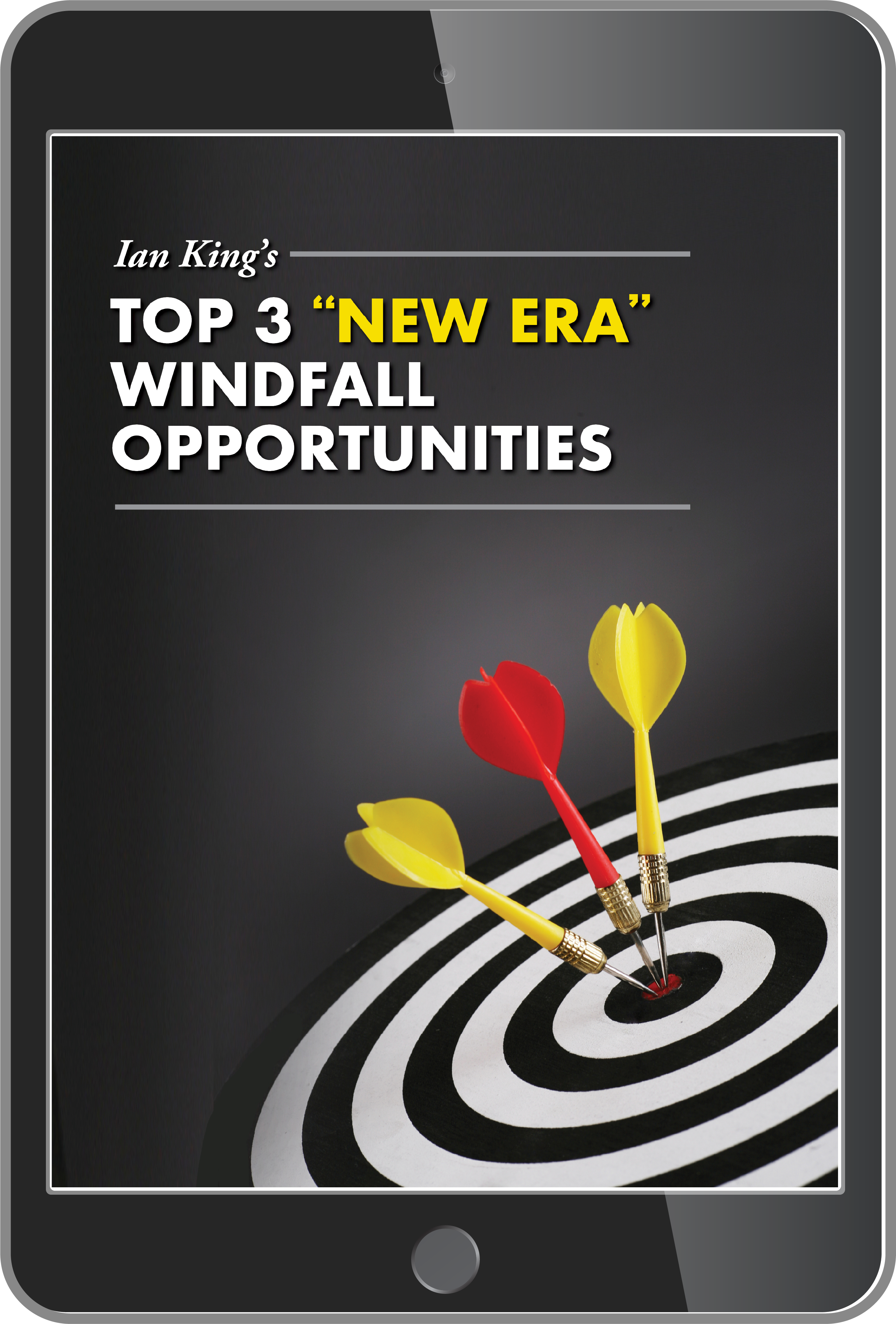 Trade alerts:
At least once every month, Ian will send you a detailed email with a brand-new investment recommendation. This email will lay out complete research on potential home-run stocks that Ian has identified. He'll break down how the stock fits the parameters of his proprietary five-phase strategy, and he'll reveal all of his research on why he expects it to be the best candidate to secure a gain of 1,000% or more in the months and years ahead.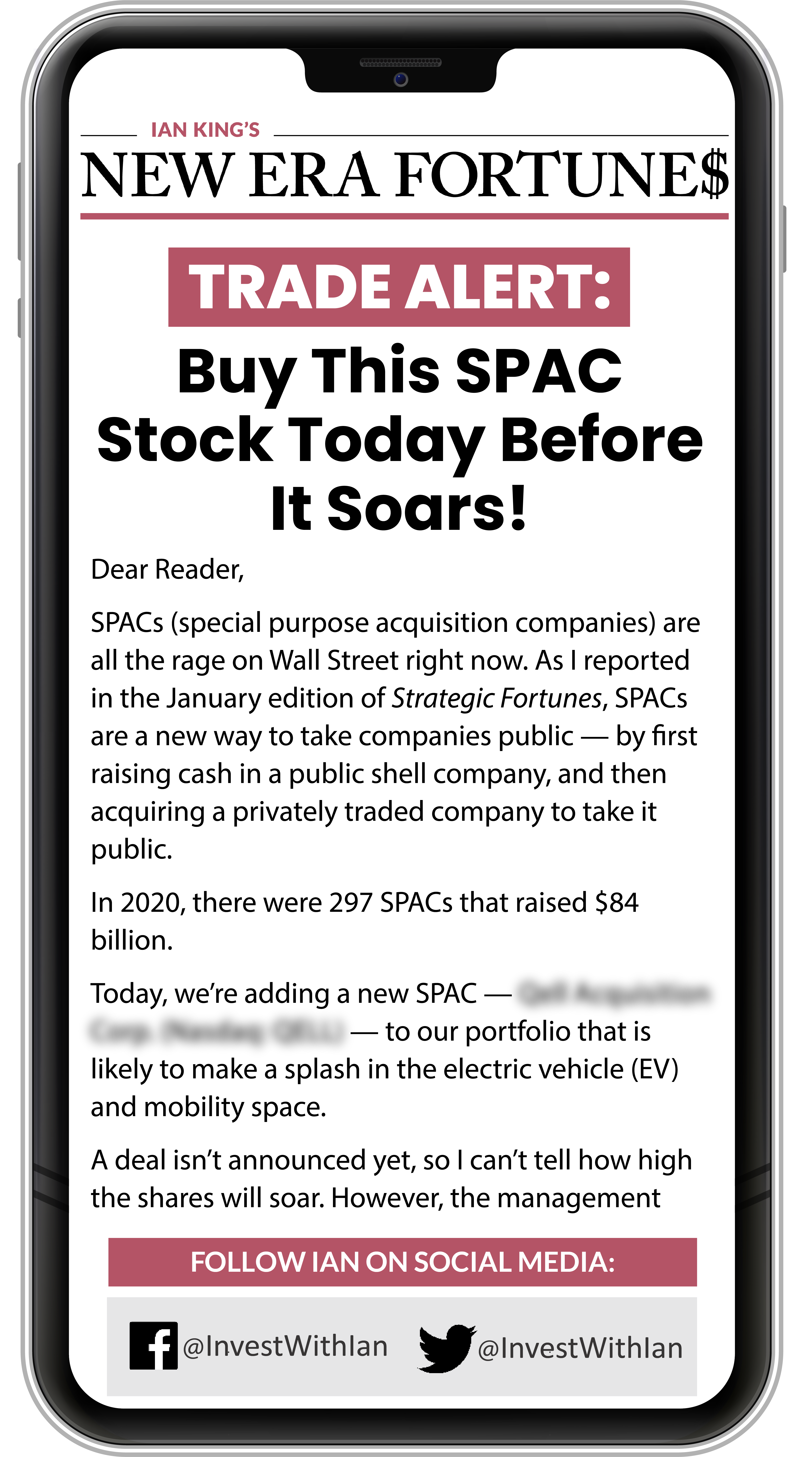 Weekly webinar updates:
Once a week, Ian will record an in-depth market update for you to watch and listen to. And if you would like, you can even read the transcript. Think of it like having a short conversation with him on the phone, where he updates you on the market and positions in the model portfolio and what to expect in the near term.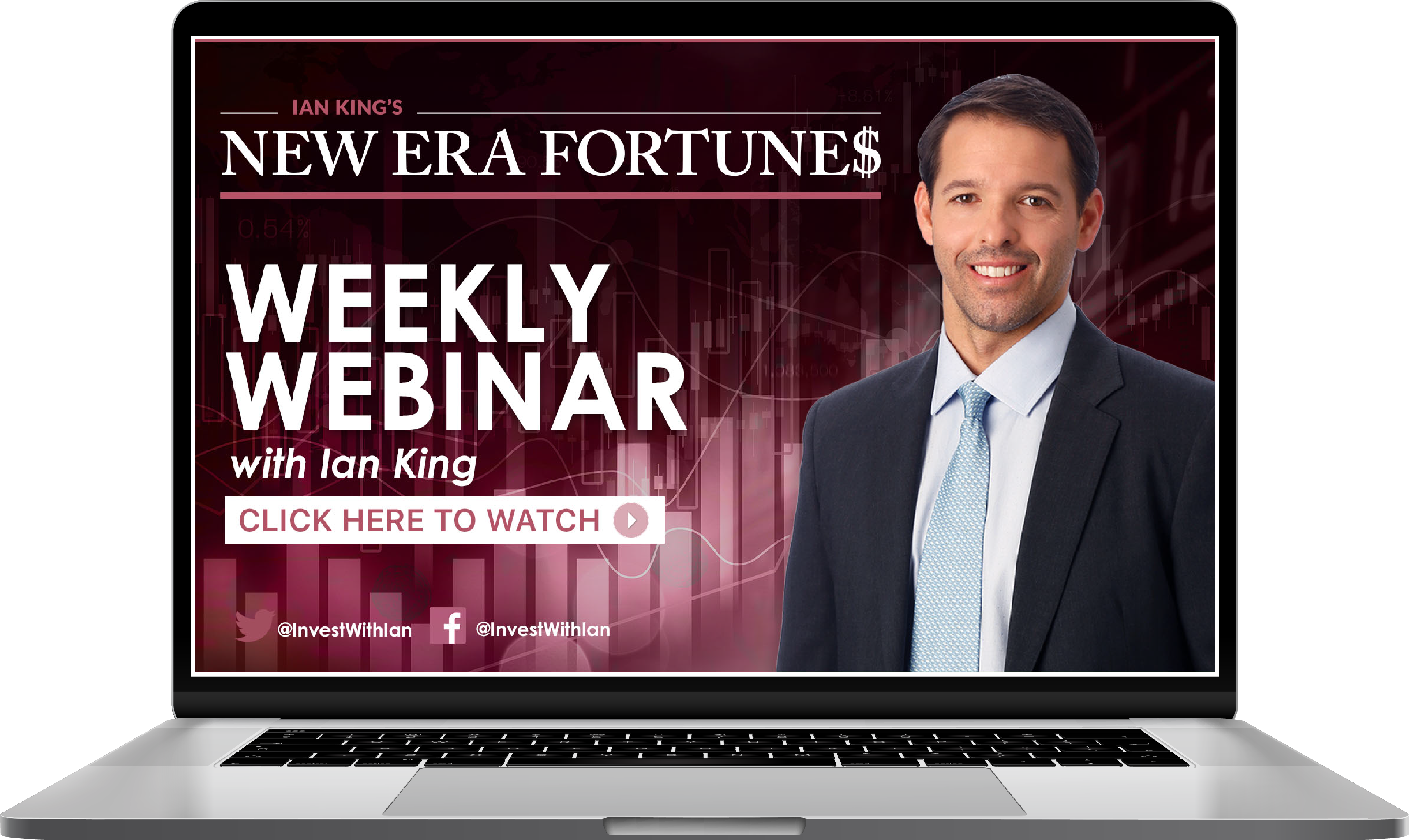 24/7 access to the New Era Fortunes website:
You will receive a login and password to our encrypted New Era Fortunes website. This website holds every trade alert, every special report and every video that Ian and his team have put together. You can also opt-in to receive text messages whenever an urgent update is published.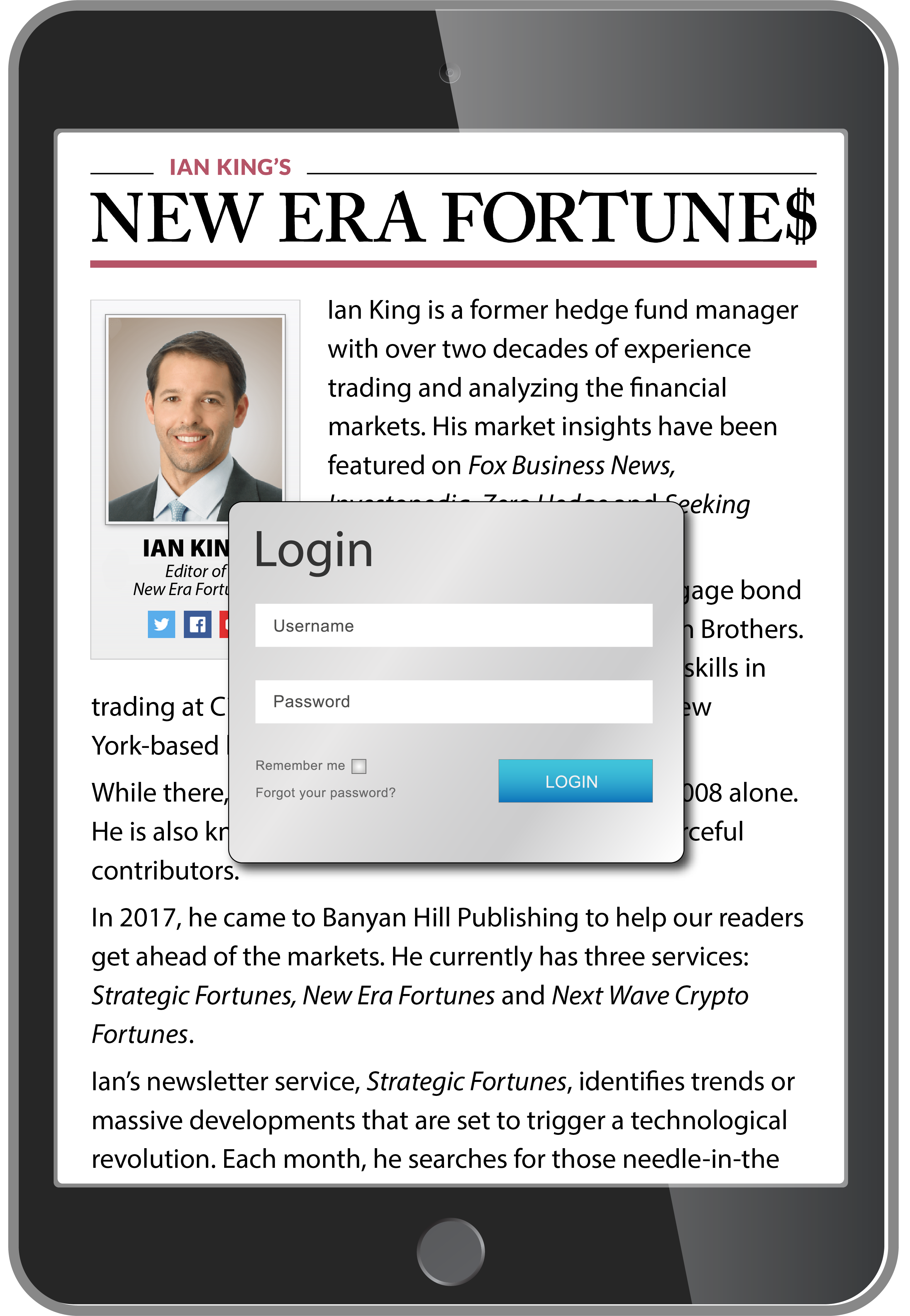 A dedicated customer care team:
We have a team of well-trained and educated customer care representatives who can help you with any questions you might have about your membership without long wait times. You'll receive your customer care hotline number after you place your risk-free order below.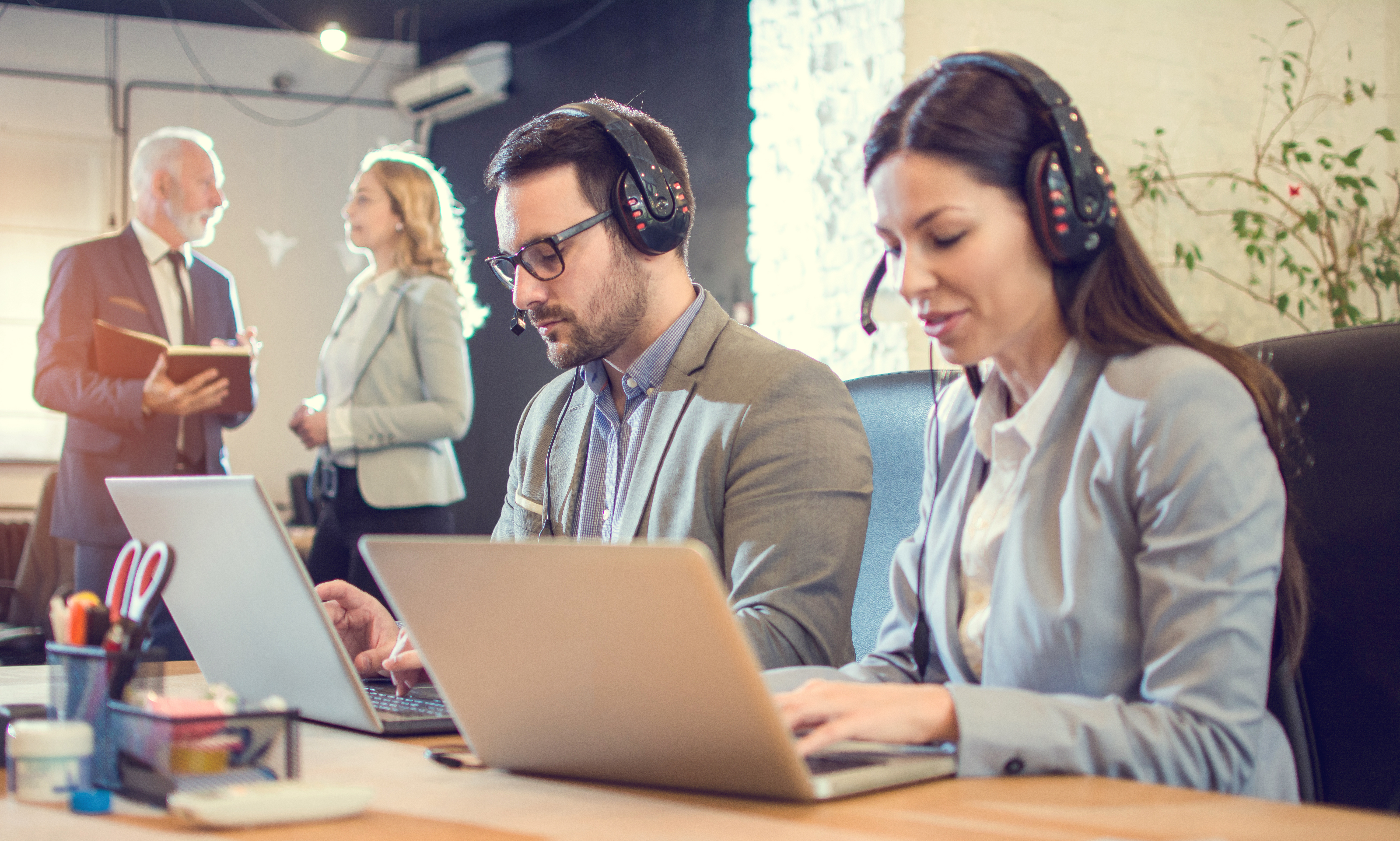 Join Today and Take 60% Off!
Ian King has one of the best track records in the industry…
In his Strategic Fortunes service…
On 41 stocks, he's averaged 101% gains. While holding each stock an average of one year.
And he's already helping readers reach their financial goals…
Like James Brooks, who made $468,000 in six months with Ian's research…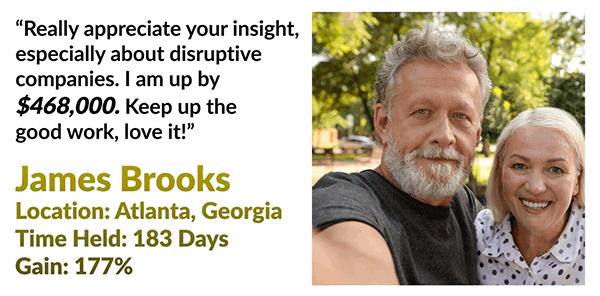 Hank Andrews, who grew his wealth by $39,000 in just four months on one stock…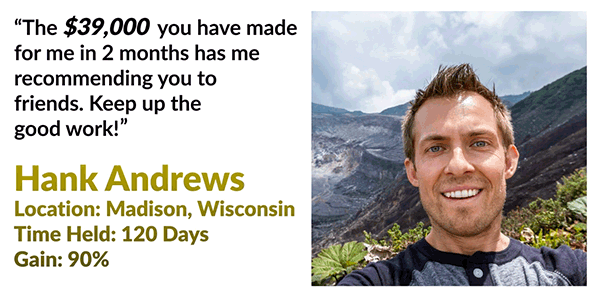 And Noel Seamore, who watched as her IRA went up by $23,000 in less than nine months…
Now, with New Era Fortunes, he's looking to take these types of gains to the next level.
And remember, this is a results-based service…
Your new membership subscription to New Era Fortunes is backed by Ian's double guarantee…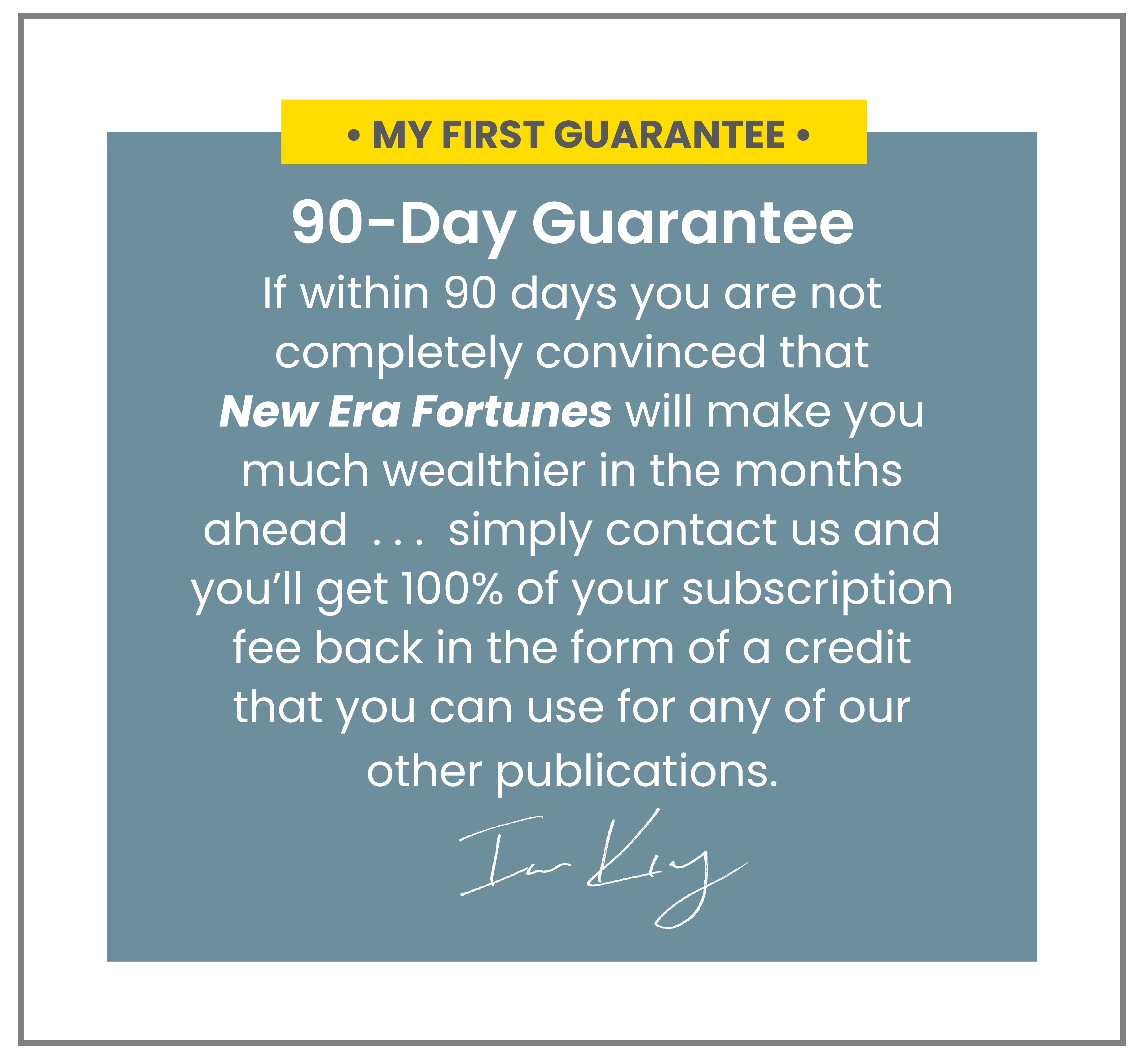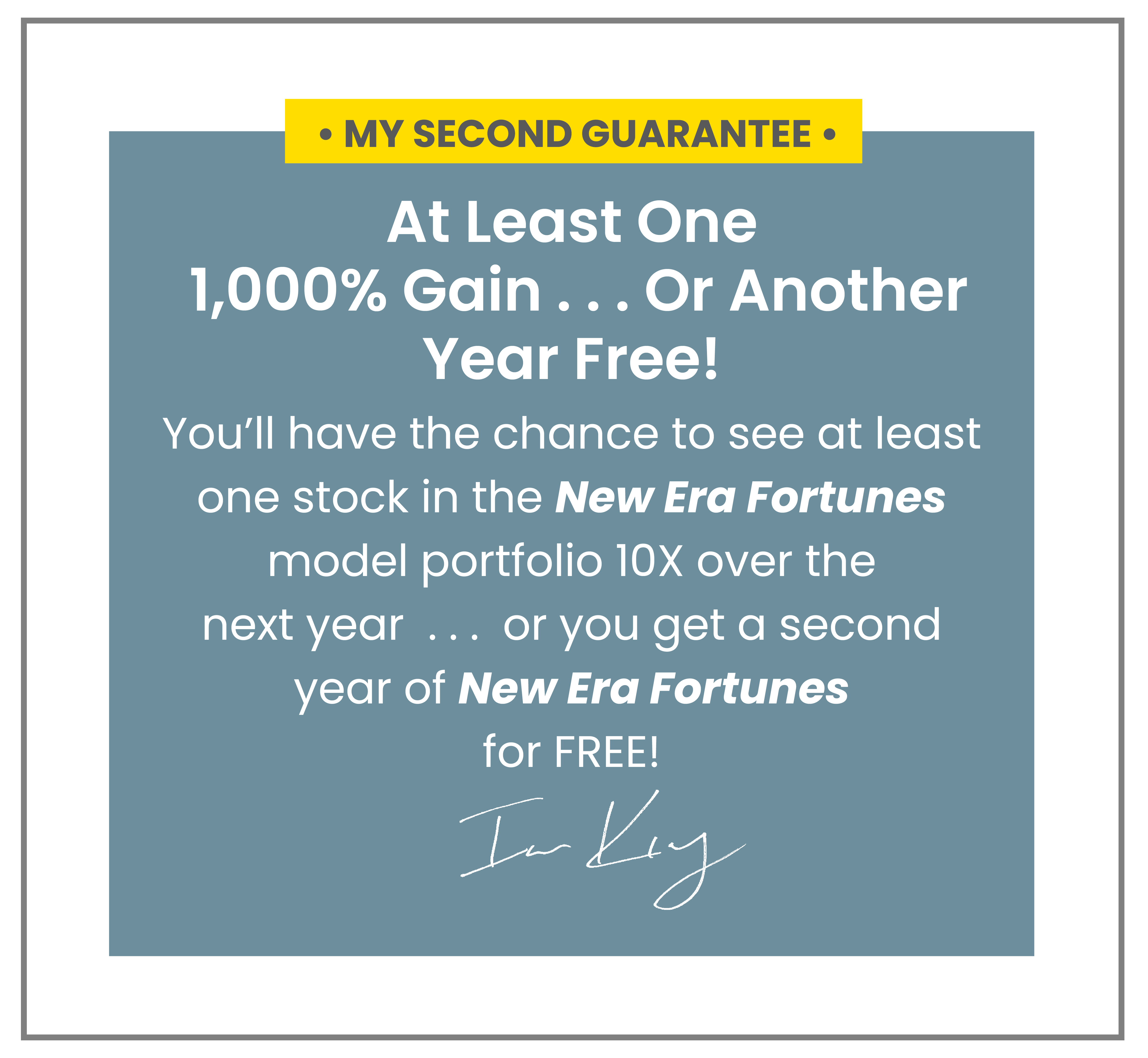 For research of this quality — with Ian's remarkable track record — we could easily justify charging $10,000 or more for New Era Fortunes.
But it won't cost $10,000 or anywhere near that to join, right now.
Today, you can lock in one year of New Era Fortunes…
For just $1,995 …
60% off the $5,000 regular retail price.
Even better — you get to lock in this price today…
With our yearly automatic renewal benefit — you get to keep the $1,995 rate…
No matter how much more others pay in the future.
And you can opt out of this auto-renew benefit at any time.
This offer is only available to new members who sign up today. After that, we cannot guarantee you'll get in for anywhere south of $5,000 again.
These membership spots will go fast! So please don't hesitate … you don't want to miss out.
Ian is known for his research on stocks that win big.
Now it's your turn to take action.
All you have to do to start this journey with Ian toward grabbing 1,000% gains in as little as 12 months is fill in the brief form below.
Simply Fill Out the
Brief Order Form Below
to Get Started for Just $1,995