Congratulations!
You're Just One Step Away from Securing Your Membership in
Profit Point Alert
With Ian King and Steve Fernandez
Combining the power of AI, machine learning and data science…
For a shot at a 90% win rate…
And the potential for double-digit gains — in just 64 days.
Get your new membership started now!
Fill in this simple order form … and
start building your own small-cap portfolio.
Hi. Ian King here.
If you're seeing this message now…
Congratulations! You're in!
You're one of just 500 people today to claim your valuable Membership in the new premium research service from Ian King and Steve Fernandez … Profit Point Alert.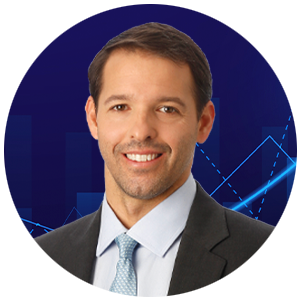 Your timing couldn't be better…
Because in your special report, Profit Now With 3 Biotechs Set to Soar…
Steve's giving you three of the hottest biotech stocks out there — stocks our AI, machine learning and data science system indicates are poised to skyrocket.
And our micro catalysts indicate these biotech stocks could take off as early as the next few days.
As you saw in our special presentation…
Cutting the time between when you buy … and when you take profits…
Is more than just our goal…
Steve has put his own money where his mouth is to produce gains of…
81% in 44 days … 73% in 47 days … and 78% in 44 days…
And those are just short-term gains.
If Steve held those same shares for a year - these gains would have skyrocketed to 412%… 441%… and 542%.
Of course, hindsight is 20/20, and we can't predict the future.
So, neither Steve nor I can promise that we'll see gains like that on every recommendation we make … or ever again.
But what I will tell you…
With our unique system, combining AI and machine learning with data science…
We can pinpoint stocks with a timer of sorts attached to them.
A timer that we can see ticking down by the day…
Shortening the gap between when we buy … and when we could see profits.
Sometimes down to the exact day a stock shoots higher.
Which is why I'm so excited for you to get started with Profit Point Alert.
I've been tracking massive early-stage trends for more than 20-years … to uncover outstanding profits in stocks like Tesla, SunPower, and BioLife Solutions.
Game-changing trends can be found in every sector of the market.
Retail. Financial. Energy. Health care. You name it. The list goes on and on.
Where there's an opportunity, we will find it.
And right now — the biggest trends are happening in biotech.
Because of government requirements…
We're able to track catalysts like phase II and phase III trial results … and FDA approvals.
This lets us home in on exactly when some of these stocks could be set to explode higher.
That's why I'm so confident when I tell you…
The three biotech recommendations in your special report, hold the potential to be rocketing higher in the next three months.
Now, let's run through…
Everything you're getting with your Profit Point Alert Membership
Beginning with Steve's special reports…
Profit Now With 3 Biotechs Set to Soar
The micro catalysts we've identified on these biotech stocks make Steve and I believe the profit train could arrive as early as within days.
That's why you're going to want to get this information in your hands ASAP, so you don't miss out.
But Profit Point Alert isn't just about biotech stocks.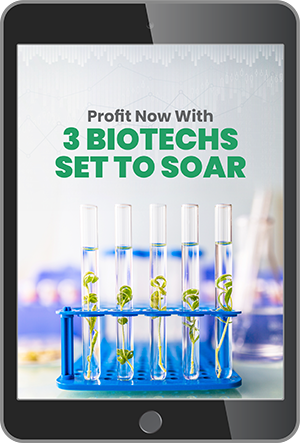 With all the exciting technological advances happening right now, in areas like electric vehicles, renewable energy and cryptocurrencies, we can't just stop at biotech.
That's why Steve wants to give you a second free report…
The Top 3 Micro Catalyst Trades to Buy Now
Giving you Steve's top trades outside of biotech.
You'll get his research and recommendations on investments like the ones that inspired this new service … like Tesla, SunPower and BioLife Solutions.
In addition to all these reports…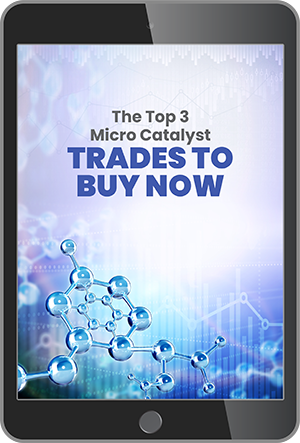 Here are the "meat and potatoes" of your Profit Point Alert membership…
Over the next 12 months, you'll enjoy:
Weekly research updates: Email updates on what's happening in the market … how it affects our positions … and what Steve see's coming over the horizon.
Instant trade alerts: When the right opportunity comes across Steve's radar — typically one to two per month — you'll get a trade alert direct to your email. You can even choose to get a text message sent straight to your smartphone telling you to check your inbox.
Secure access to Profit Point Alert website: Quick and easy access to everything that comes with your subscription.
Access to our model portfolio: Track each and every one of our trades securely online.
Our exclusive Concierge Service: Your own private member email box… and an exclusive customer care team dedicated to helping you get the most from your membership.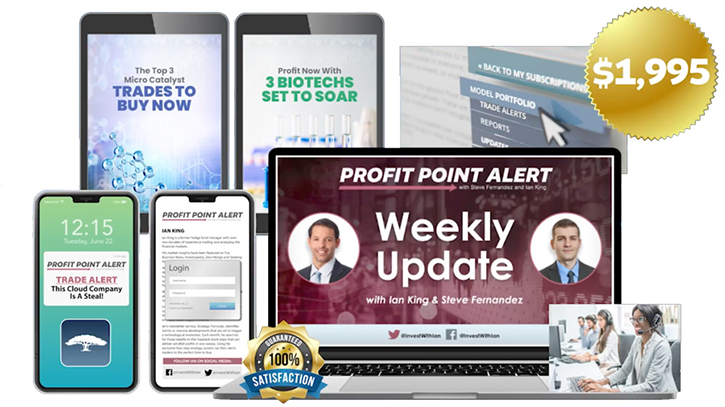 As a New Member…
You're Entitled to Our Very Best Deal
Just $1,995 for one full year - a savings of $3,005 right off the top.
Special BONUS: Lock in your subscription discount for life!
As long as you're a member in good standing of Profit Point Alert — your subscription fee will never go up. No matter how much we charge others in the future — you're guaranteed the same membership price for life.
And for your convenience, my team will auto-renew your subscription for just $1,995 for one full year.
Our Unconditional, 100% Satisfaction Guarantee
Take Profit Point Alert for a three-month test drive.
Give us the next 90 days to prove what Profit Point Alert can do for you … and your future.
If, at any point during the next 90 days, you decide this service is not for you … for any reason at all…
Simply call us, and we'll give you an instant credit equal to your entire membership fee…
That you can use at ANY time … toward ANY research service we offer.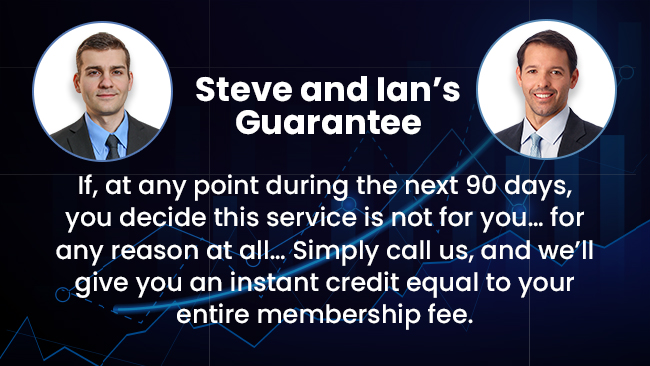 Because of the incredible nature of this offer, we cannot give refunds.
One thing to keep in mind…
The special pricing you're receiving now is limited to the first 500 folks who subscribe today.
After that, we cannot guarantee spots will be available today. And these 500 spots will go fast.
It's simple to get started.
Simply Fill Out the Form Below or Call 877-422-1888 to Get Started for Only $1,995
(That's 60% Off!)
LET'S GET STARTED!