Invest Like a Stock
Market Expert
In less Than 10 Minutes a Month
Profits Unlimited Gives You Stock Picks From the World's Best Investor … Paul Mampilly
Outperforms the market 2-to-1

Only takes 10 minutes a month

Keeps you up to date with weekly videos

No third parties or hidden fees

Takes the stress out of buying and selling stocks
Profits Unlimited Makes Investing Easy
Paul Tells You What
to Buy!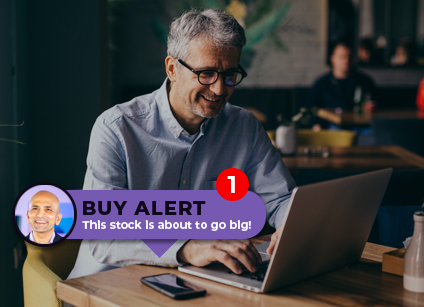 Paul will send you a text and detailed email for every trade.
You Buy It!
If you like what you see, you click and buy.
Paul Tells You When
to Sell!
Paul will also send a text and email alert when it's time to sell.
PROFITS UNLIMITED IS FOR EVERY INVESTOR
Easy enough for beginners.
Powerful enough for seasoned investors.
Here's Why Over 300,000 Americans
Have Chosen Profits Unlimited
Investing with Profits Unlimited
Outperforms the market 2-to-1
Takes 10 minutes a month. That's it!
You'll receive a text and email anytime you need to make a trade
You get insight from one of the world's best investors … Paul Mampilly … for less than $4 a month
Since 2016, Profits Unlimited has outperformed the stock market 2-to-1!
Investing on Your Own
Too many stocks to choose from
Constantly second-guessing your decisions
Your spouse / significant other is also second-guessing your decisions
Top software costs $20,000 a year
Profits Unlimited Has Outperformed
The Market 2 to 1 since 2016!
Unlike The 9 Out Of 10 Professionals Who Fail
To Beat The Market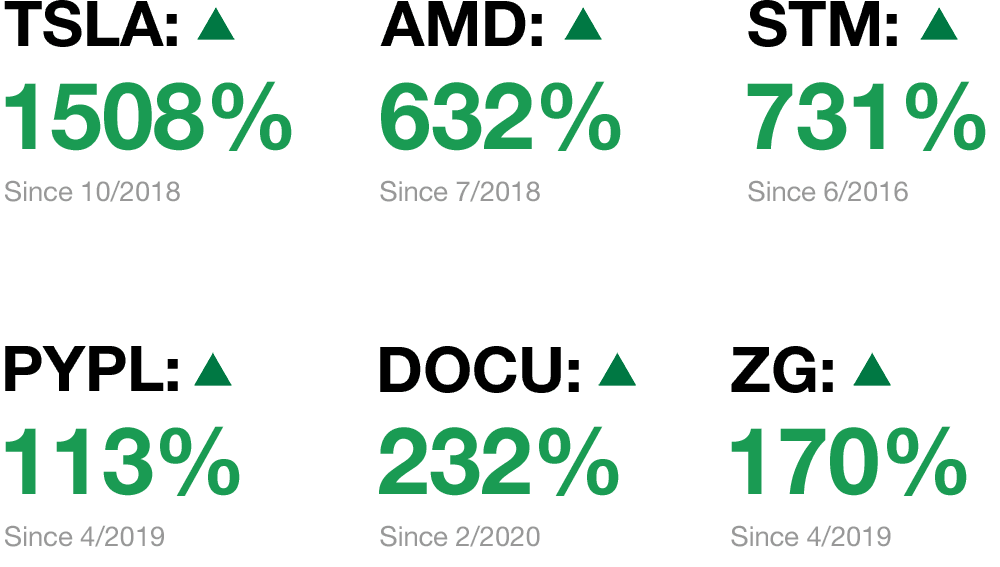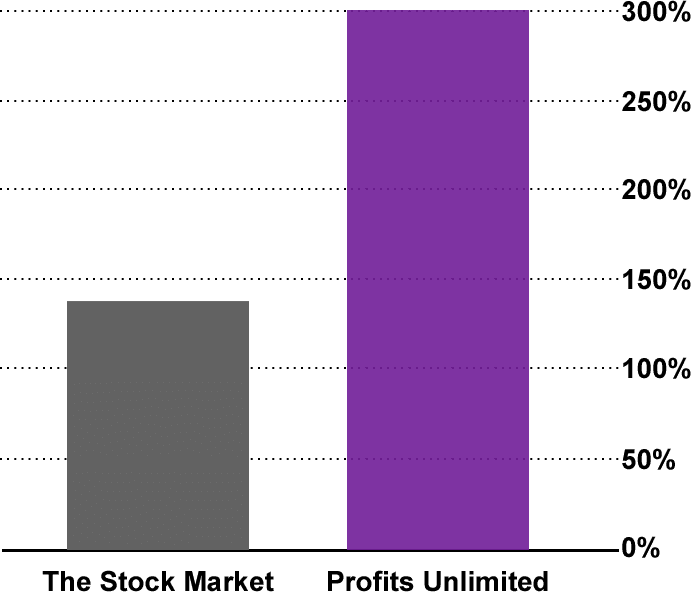 You really only have two choices when it comes to investing …
Option one, invest on your own. This takes a ton of time, energy, and effort. And studies show that individual investors get half the returns because they "buy high" and "sell low".
Option two, hand your money over to a financial advisor who all too often charges excessive fees whether you profit or not! And studies show, 9 out of 10 professional investors underperform the market!
But now, there is a THIRD option. Profits Unlimited has beaten the market 2 to 1 since it went live in 2016. Designed to put YOU in total control of your investment, you decide what to buy and sell based on Paul's simple to follow recommendations.
Best of all, you keep 100% of your gains.
NO HIDDEN FEES.
NO EXTRA COSTS.
COSTS LESS THAN ONE LATTE A MONTH
LESS THAN $4/MONTH
Who is Paul Mampilly
Paul Mampilly survived and thrived on Wall Street through the best of bull markets and the worst of bear markets…
The fund he managed was ranked in the top 1% by Kiplinger and one of the "World's Best" by Barron's.
Some of his successful personal investments include getting into Google, Netflix and Tesla early on. Some investments have soared as high as 2,539% in eight months!
But he grew tired of making millions for the wealthy on Wall Street and wanted to make a real difference in ordinary, everyday peoples' lives.
So he made the BIGGEST decision of his professional life… He simply walked away from Wall Street to help those of us on Main Street by creating PROFITS UNLIMITED.
For only $47, Paul provides you with his expert-level investment research and up-to-the-minute insights on exactly which stocks to buy and sell so you can make money and secure your financial freedom.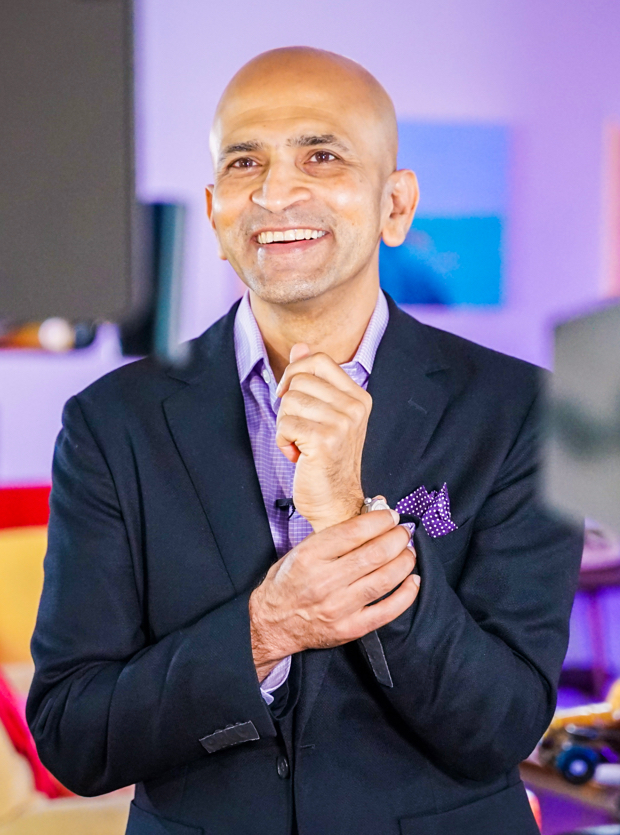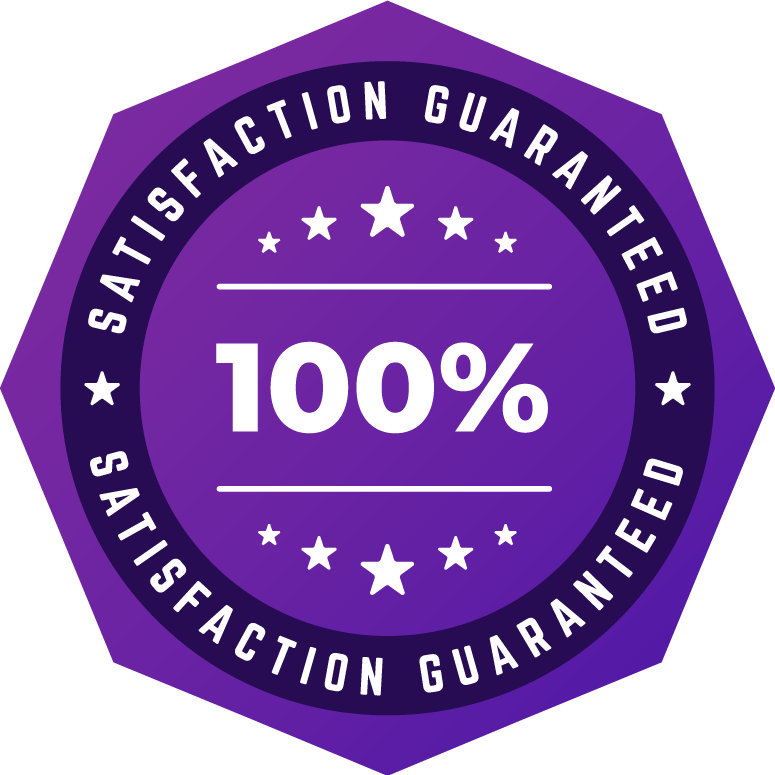 DON'T MISS YOUR MOMENT…
Try Profits Unlimited RISK FREE for one year. If you're not 100% satisfied at any time, we'll give you a FULL REFUND no questions asked!
Real Subscribers. Real Stories. Real Success.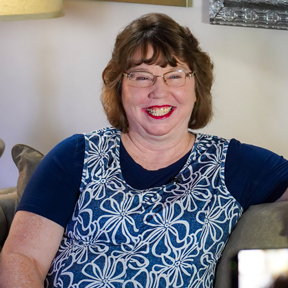 We were behind in our retirement and needed to catch up … Profits Unlimited made up for 18 years of low returns in just 2 years!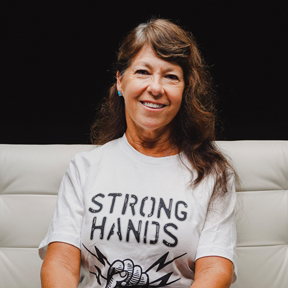 As a seasoned investor, finding Profits Unlimited renewed my passion for investing and gave me the retirement I only dreamed of…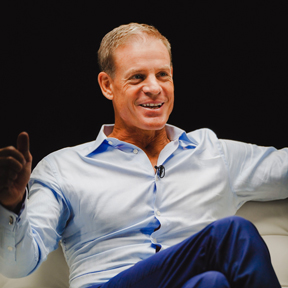 After my Father passed away, I needed the easy-to-follow investment plan Profits Unlimited provided that helped me secure my mother's finances for her later years.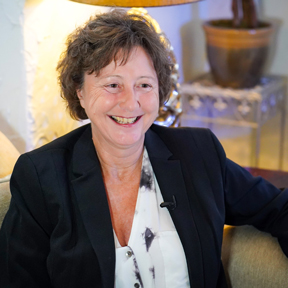 I can't believe I waited this long to get started. I am now financially secure for life and so excited about my future!
See Why Subscribers Are Raving Fans
"
Hello Paul, I have been a Profits Unlimited subscriber for 4 years now. I want to thank you for all your guidance and help. You took me from a place where I had $213 dollars to my name, and in 4 years, you helped me put $70k into my portfolio.
Trent G.
"
I joined Profits Unlimited in October 2017, and then another service of yours about a year later. I started with a portfolio of $310,000 and reached an all-time high of $1,136,000 in April 2021. I want to thank you and everyone at Profits Unlimited for making me a "millionaire". I can't wait for the next all-time high.
Karl A.
"
I have struggled my whole life to get ahead. I had 3 jobs to make ends meet, and it was tough to say the least. It was like a rat race, always trying to get ahead with the same outcome. Then I found you! Paul, I cannot thank you enough for helping me get on the right track! Since starting in April 2020, I made $1,000.00 grow into a whopping $5,000. I believe in your program and can't thank you enough for your guidance!!
Kelly M.
Buy When Paul Says "Buy"
Sell When Paul Says "Sell"
Paul sends a simple trade alert when it's time to buy or sell a stock… about once or twice a month. You simply pull up the trade alert on your phone or computer, read the details, and if you want to make the trade, make the trade.
Profits Unlimited works whether you choose to spend 10 minutes a month or 10 hours a month investing. You won't have to watch these stocks every single day because Paul and his entire team are watching them for you!
You don't even have to know a whole lot about investing. Just follow Paul's "buy" and "sell" recommendations as they come out. But, if you're the type that likes to dig into the details, you can read Paul's daily written updates, weekly video tutorials, and monthly reports on the market.
He'll even give you FREE access to his 5 Rules of the Investment Game that have helped him survive and thrive through the stock market crashes in 2000, 2008, and 2020. Best of all… you have a peace of mind knowing one of Wall Street's best investors is guiding your investments.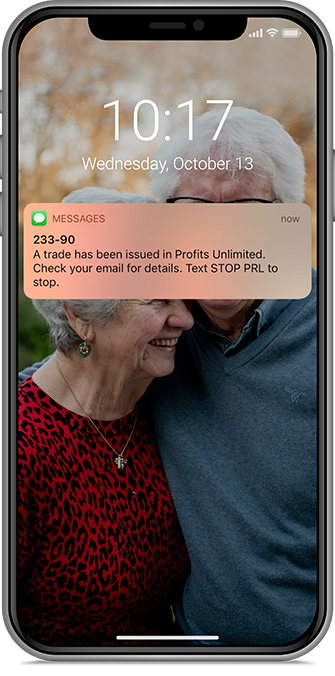 Experience The Profits Unlimited Difference
Outperforms The Market
Profits Unlimited has outperformed the market 2:1 with stock gains as high as 570%, 630%, and 1,100% since 2016.
Easy To Use
You'll receive simple buy and sell alerts via text and email when it's time to make a trade. It takes less than 10 minutes a month!
Expert Advice
Paul managed one of the World's Best hedge funds according to Barron's, but left Wall Street to help those on Main Street.
No Hidden Fees
Wall Street can take up to 40% of your wealth through hidden fees, but we only charge an annual subscription of $47. You keep 100% of your gains.
What You Get With Your
Profits Unlimited Subscription
Paul's Model Portfolio
Imagine looking over the shoulder of one of the world's top investors! Well, this model portfolio makes it possible. You'll see all of Paul's top investment recommendations along with the buy up to price and all the details of why he's recommending it. This portfolio has outperformed the market 2 to 1 since inception in 2016.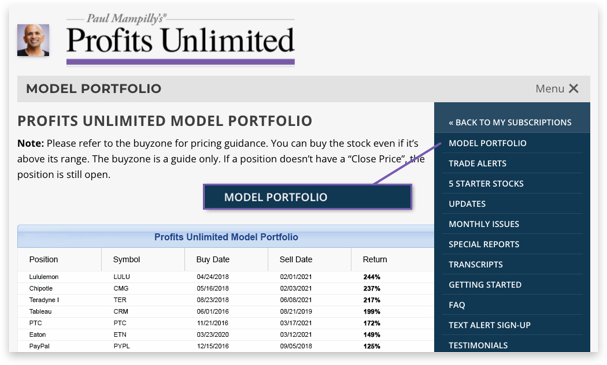 New Stocks! Plus Paul's Monthly Newsletter
Every month, Paul will send you a "deep dive" on his favorite opportunity for that month. These timely and insightful recommendations will tell you all about the opportunity and why Paul recommends it.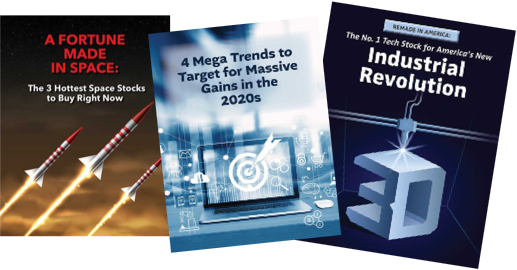 Weekly Video Updates
Paul will reach out to you once a week via video through his members-only podcast where he answers the common questions from subscribers. With Paul's research, you will never be left in the dark!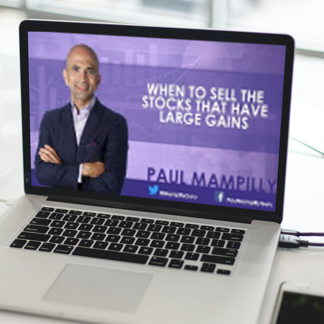 Trade Alerts
Whenever it's time to buy or sell a stock, Paul will send simple instructions via email, text, and our app, along with an explanation of why we are making the trade. You'll never miss a thing!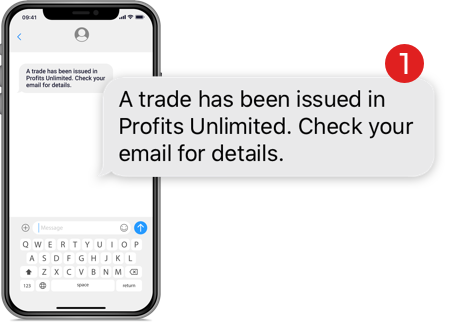 Access To Our Members-Only Website
You'll also receive 24/7 access to the members-only section of our company's website, where you can read Paul's monthly newsletter, watch his weekly updates, and review the model portfolio on your time!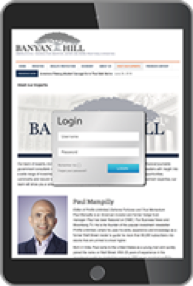 A Dedicated LIVE Customer Care Team
If you ever have questions about your subscription, simply give our customer service team a call and a real human representative will take care of everything you need live with you over the phone.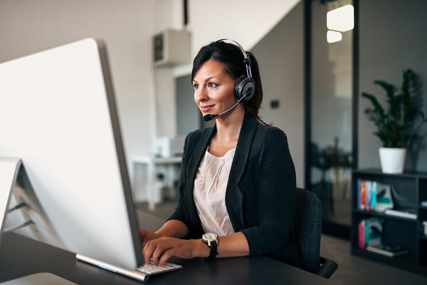 BONUS!
3 Stocks to Retire a Multimillionaire
These three "bonus stocks" are a great way to get started! This special report includes a detailed breakdown of the three stocks leading the Internet of Things, Artificial Intelligence, and Blockchain revolutions. These are three of Paul's favorite stocks!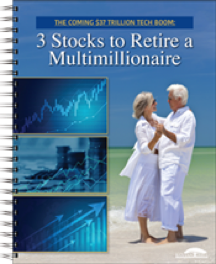 Frequently Asked Questions
Is Paul Really One of the "World's Best" Investors?
Yes. When Paul worked on Wall Street, Barron's magazine ranked the hedge fund Paul managed as one of the "World's Best." In a universe of over 10,000 hedge funds, Kiplinger ranked it in the top 50 (putting it in the top 1%). And The Washington Post wrote: "Investors should hold this fund to a high standard." So when we call Paul a Wall Street legend, that's because he is!
Does Profits Unlimited Require a Lot of Time and Effort?
Not at all! You can spend a little as 10 minutes a month if you like. We make it easy to get the information you need. If you really like Paul's material, such as the weekly video updates and monthly reports, you may spend a couple hours a month. The good news is, you'll enjoy the experience either way. It's fun!
What Does a Subscription Include?
You get access to Paul's model portfolio along with his buy and sell recommendations via email (including a notification through text message if you choose) along with all of his research (a monthly report and weekly video updates). You also get access to his customer service team and website where all the material are located.
How Often Does Paul Make a Trade Recommendation?
Paul averages about one to two trade recommendations a month. His strategy focuses on holding the investments for a few years as the gains stack up.
What Are Paul's Top Investments?
Several of Paul's recommendations have soared as high as 100%, 200%, 300% and even 1000% since he started publishing Profits Unlimited. Returns of this magnitude can take one to three years to materialize, sometimes a little longer.
Do Paul's Recommendations Ever Lose Money?
Of course. All investing carries risk. So not all of Paul's recommendations will be winners. But the winners have trumped the losers by a distant mile, allowing the Profits Unlimited portfolio to outperform the market 2-to-1 since 2016.
What if I Decide I Don't Like It?
Call our customer service team and cancel it anytime in your first year, and they will send all your money back. A subscription is 100% risk-free.
Can I Do This in a 401(k)?
You can do this in any account that allows you to trade stocks. Some 401(k)s allow it, some don't.
How Do I Invest in the Stocks Paul Recommends?
When Paul makes a recommendation, he'll give you the name, the ticker symbol, and the buy price range. All you do is log into your favorite brokerage account, and buy the stock. Don't have a brokerage account? No problem! When you subscribe, you'll get access to Paul's 5 Rules of the Investment Game which includes a list of brokerage firms we've compiled. This list is not comprehensive, and we recommend choosing the one that best fits your needs (these days most brokerage firms offer commission-free trading and fractional shares. After all, who wants to cough up $3,000 for a share of Amazon?).
I Have Zero Investing Experience. Is This for Me?
If you decide to invest, we keep it very simple so anyone can follow along, including folks who have never invested their money before. A lot of our subscribers are first-time investors and they're loving their experience.
Will Paul Manage My Money for Me?
No, we are not investment advisors or brokers. But we'll do something better: We'll show you how to take your financial life into your OWN hands. Paul will be your guide, recommending which stocks he thinks you should buy and when to sell. So far, the returns have excelled those of most money managers, and it's much less time-consuming than investing on your own without any help. Plus, since the returns are in your account, you take all the credit! It really is a win-win.
How Much Money Do I Need to Get the Most Out of Paul's Recommendations?
Some people start with as little as $1,000 in their brokerage account, others have millions of dollars. But it's really up to you. We suggest start small and build trust, especially if you're a novice investor, and never invest more than you're comfortable losing.
Why Just $47 a Year?
The same reason Netflix can charge a few dollars a month … strength in numbers! (Just do the math … $4/mo x 100,000 subscribers … yeah, we have expenses, but we're doing just fine.) And just like Netflix is the new way to watch videos, Profits Unlimited is the new way to dive into the world of investing. It's a win for you, and a win for us.
Get Profits Unlimited Today!
Just $47 a Year
(100% Money Back Guarantee)
If you have questions or would prefer to order by phone, please call us at
866-584-4096 and reference the code below: