Your Offer is Reserved for:
Your Opportunity
Right now, today, is your chance to tap into the most powerful income stream in America and secure your financial future.
Forbes says it could help you "retire rich."
Reader Amrut W. told me he likes the "consistent dividend income month over month" that the Endless Income stream can provide.
Adding that it "enables you to sleep well at night."
Now it's your turn.
Within the next few minutes you could be reading your three Endless Income reports:
Collect Endless Income From the $13 Trillion 5G Revolution
…From the Internet's $248 Billion "Invisible Infrastructure"
…And From E-Commerce's Hidden Treasure
And you'll get all this for free when you
subscribe to The Bauman Letter today.
As you'll see in the reports, you could be looking at your first Endless Income payout as soon as this time next month. But timing really is everything. That's why you need to make your move now.
All you need to do is fill out the form below to become a full-fledged member of The Bauman Letter.
And not only will I rush you your three Endless Income reports, but you'll also get:
12 monthly newsletters:
Through these monthly reports, I'll bring you everything you need for your chance to grow and protect your wealth and make your way toward true financial independence.

Each issue is filled with my market insights that you simply won't get anywhere else, along with secrets, unique ideas and opportunities to grow your wealth.
Full access to my model portfolio:
My model portfolio is the culmination of all my investing experience over the last 20+ years. It contains all the stocks and investment opportunities on my "buy" list.
Weekly email and video updates:
Each week, you'll get a short video from me giving you updates on our current positions and the market in general.

I use these updates to keep you up to date on new opportunities we're looking into and any potential upcoming financial threats I see.

And I also go over your feedback and answer any frequently asked questions our readers have written in about that week.
Exclusive 24/7 website access:
You will also receive 24/7 access to my private website. I keep all my latest information on an encrypted website that members can access at any time, from anywhere.
Your own dedicated customer care team:
And of course, you get a dedicated customer care team. If you ever have questions about your subscription, simply give one of my team members a call. They will walk you through whatever you need.
Plus, daily financial insights from my team of contributors:
Big Picture. Big Profits. provides short insights from select experts that will open your eyes to even more unique ways to unlock greater wealth, health and peace of mind.

An overlooked stock opportunity, the most profitable ways to play gold, emerging markets news — you name it, they'll show you how to take advantage of it.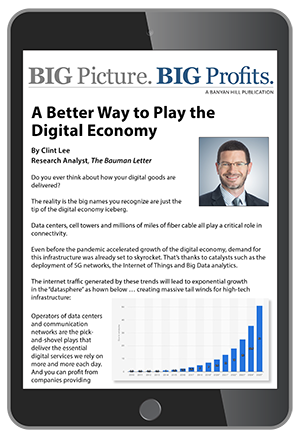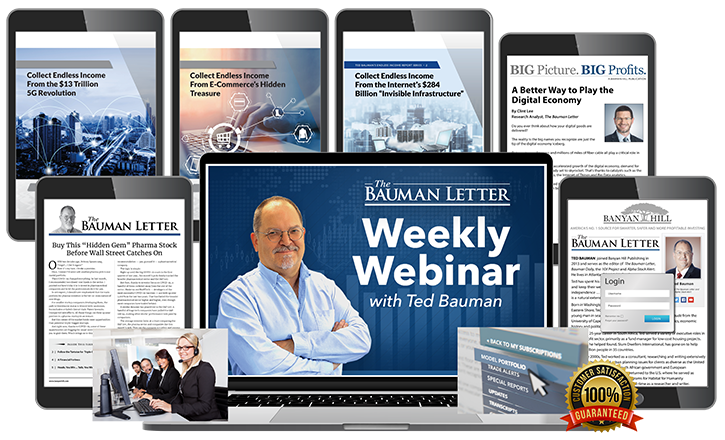 A subscription to The Bauman Letter usually runs at $199 per year. And for all you're getting and all the work that goes into each issue, I believe it's an incredible value.
But given the peace of mind I know The Bauman Letter can provide you, I want to offer you full membership at the lowest possible price I can.
So, if you choose to join today, you can subscribe for just $47.
That's less than half the usual price. In fact, it works out at less than $4 per month … about the price of a coffee from Starbucks.
And for that, you get everything you've just heard about:
A one-year subscription to The Bauman Letter.
Full access to an entire library of archives plus special reports.
Any additional special reports I publish in the next 12 months.
THREE FREE reports — each valued at $199.
That brings the total grand value of everything I want to give you to $796. But by accepting this offer today, you'll pay just a fraction of that.
And with our automatic renewal benefit of just $97 per year, you will never, ever, pay the full $199 price.
And if you act now, I'll also mail you a physical copy of my book, Endless Income: 50 Secrets to a Happier, Richer Life.
This book is jam-packed with 50 surprising secrets, tips and insights you can use to help make sure you have the fun, independent, carefree retirement you were both promised and deserve.
You'll find everything from how to get up to $54,072 in extra Social Security benefits — for retiring eight years early — to potentially tripling the dividend yield of the S&P, with a few nearly forgotten "high-class" stocks. You won't find this book anywhere. And when you accept this offer today, you won't pay a thing … not even additional shipping.
But that's still not all…
I want you to be confident you've made the right decision. And I don't want you to have to worry if The Bauman Letter is the right move for you.
Which is why…
My Guarantee to You
I'm going to give you a 12-month
money-back guarantee.
You'll have a full 365 days to see if The Bauman Letter is right for you. If you aren't perfectly satisfied — for any reason — just give us a call and we'll refund every penny of your membership fee.
And you'll even get to keep your free reports, book and bonuses with my compliments. I can't think of anything fairer than that.
I want to set you on the path toward true financial independence. And I want to remove as many obstacles as I can toward you achieving it.
That's why I insist on your membership coming with this personal guarantee from me. This way, you have absolutely nothing to lose and everything to gain by coming on board today.
By joining The Bauman Letter, you're taking that crucial first step toward true financial independence.
All you need to do is fill in your details below … and you could be looking at your first Endless Income payout by this time next month.
I look forward to having you on board!
Sincerely,


Ted Bauman
Editor, The Bauman Letter
Let's get started now!
Please Choose Your
Subscription Level:
Welcome!
If you have questions or would prefer to order by phone, please call us at
866-584-4096 and reference the code below: