You're almost there…
On this page you can claim your spot to the greatest show on earth…
In TRADE KINGS, Andrew will join you LIVE four days a week at the market open…
Sharing as many as 10 trading opportunities with you each day.
Members who join Andrew live in the Trade Room have reported top gains of 257%, 534% and even 1,050% in the first hour of trading.
You'll also get access to Andrew's Spotlight Trade of the Week, which are delivering a rare positive performance in 2022 as the market goes haywire.
Are you ready to join one of the best traders in the world?
Here's Everything You Get With

TRADE

KINGS the Moment You Join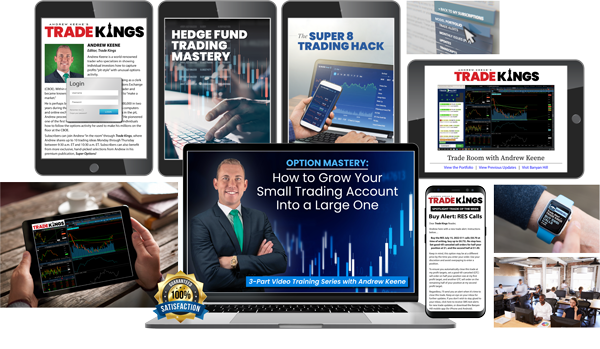 The

TRADE

KINGS Live Trade Room. Get up-to-the-minute guidance on the best opportunities to trade the second they land.

LIVE Coaching Sessions.

Every day at noon and 3 p.m. ET, Andrew's team will join you live in the room to answer your most burning questions and guide you on your path to becoming a Trade King yourself.**

Recordings of Live Trade Room Sessions.

Want to review Andrew's insights but not able to make the live calls? No problem. We record each trading session, so you can review at your leisure to see if any opportunities are still in play.

Spotlight Trade of the Week.

At least once per week, Andrew will send you an official trade recommendation via email. You can be notified via text as well or even get these alerts through our mobile app.
The

TRADE

KINGS Model Portfolio. Discover open trade recommendations and review Andrew's track record of closed positions. Once you do, you'll see why Andrew is regarded as one of the best players in the game.
Bonus No. 1: Options Kings: How to Grow Your Small Trading Account Into a Large One. This three-part video series will teach you exactly how to trade options the way Andrew does. If you're brand new to trading, this video series will get you up to speed FAST.
Bonus No. 2: Hedge Fund Trading Mastery. This comprehensive, tell-all special report details Andrew's trading methodology — including how he's able to see the moves that hedge funds, executives and market insiders are placing the moment they buy.
Bonus No. 3: The Super 8 Trading Hack. Did you know there are eight trading days in the month when the market consistently rises harder, faster and more consistently than any other day? Discover the full secrets in this special report.

Members' Area Login.

Access the full benefits of your subscription straight from our website or mobile app.

A U.S.-Based Customer Care Team.

If you ever have questions or technical difficulties, our U.S.-based customer care team is there to assist you.
**Please note, our experts cannot offer personalized investment advice but are happy to provide answers to popular questions or general financial insights on the stock market and trading options.
An Exclusive
84% Discount
Andrew used to charge as much as $2,000 for members to get access to his live Trade Room.
But Andrew is tired of seeing fake experts dupe unwitting traders out of their money, promising them the world with some proprietary approach or special indicator.
That's why Andrew is discounting access for the first 1,000 people who join today to an insane price…
Just $1,200.
That's nearly half the price for what is arguably the leading trading research in the entire world.
But if you are one of the first 500 people to take advantage of this offer today, Andrew will discount the price even further.
Rather than pay $1,200…
You can get an entire year of TRADE KINGS for just $199.
That's $1,000 off…
And it's 90% less than what Andrew used to charge.
Make no mistake … this is a steal, and you'd be crazy to pass it up…
Especially considering Andrew is making it a no-brainer.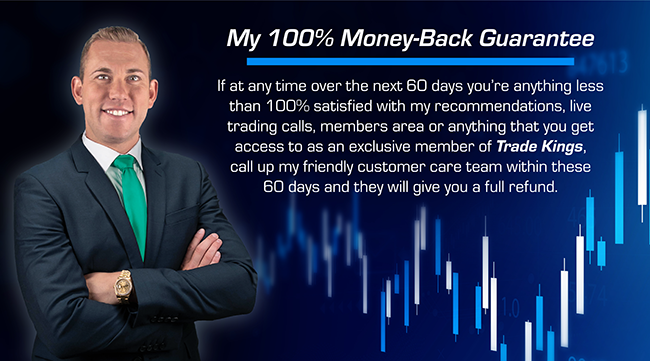 If for any reason you are not completely blown away by TRADE KINGS in the first 60 days, we will refund your subscription fee entirely.
All $199 of it … and you can keep all the special bonuses for yourself.
What are you waiting for?
Please Choose Your Subscription Level