Let Me Be Your Guide as
the
Next Rebel Stock Superstars
Get Ready to Skyrocket!
Congratulations!
You have a chance to be the newest member of Paul's Secret Portfolio — the research service that most closely mirrors my personal trading style … and join me for what's shaping up to be "the most exciting — and most profitable — ride of your life."
Your spot is reserved for the next 15 minutes while you place your order.
As a new subscriber, you'll get the inside track on this Rebel Stock phenomenon that's transforming the very nature of the stock market forever.
And with the fast-growing and free-spending millennial generation driving this trend for at least another decade, there should be plenty of opportunities over the next 12 months to rack up more gains like the ones highlighted in today's broadcast:
…

311%

in

three months

on Palantir…
…

415%

in

12 weeks

on Virgin Galactic…
…

467%

in

one month

on Hertz…
…

595%

in

four weeks

on AMC…
…

1,015%

in

17 months

on Hut 8 Mining…
…

1,718%

in

22 months

on BIGG Digital Assets…
…Just to name a few.
Here's Everything You Get as a New Member of Paul's Secret Portfolio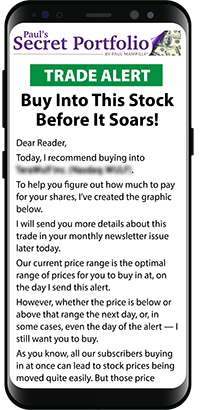 Timely Trade Alerts:
When a new "special opportunity" arises, we will send you a trade alert with everything you need to know about it, why we chose it and how to play it. We will also send you an alert on when we believe it's time to sell any of our positions.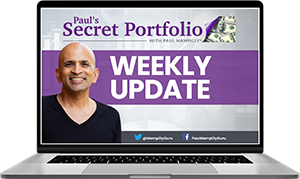 Weekly Briefings:
Each week, we will send you a written or video update to discuss overall market conditions and address our portfolio. We'll keep you in the know on important company announcements, along with any vital information you need about our recommendations. This is also where I'll answer any questions you may have!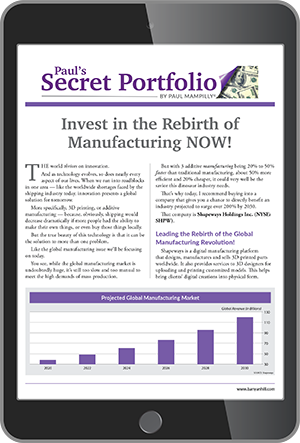 Monthly Reports:
Because this service contains very unique and very special situations … we do a deep dive into every single one. Each month, you can expect a detailed report. You'll receive my investigation into an opportunity we're targeting that month. This in-depth research alone makes your subscription worth every penny.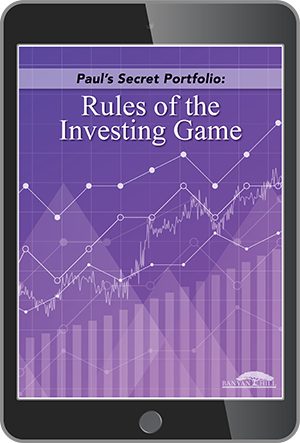 Paul's Secret Portfolio's Rules of the Investing Game:
This report is crucial for your success and understanding of my Secret Portfolio. We share information on how to use this service to create a safe and profitable portfolio.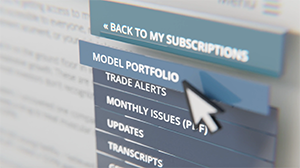 Model Portfolio:
This online portfolio is a snapshot of every open recommendation that we recommend. It will tell you what price we recommended buying in at, the stock's current price, gains to date and total profits once sold.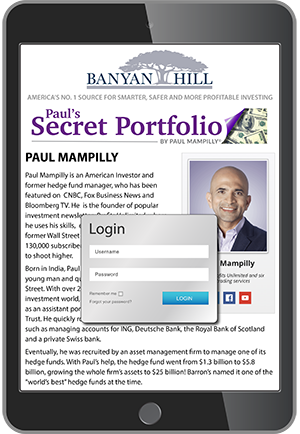 24/7 Private Portal Access:
All past and current issues, updates, alerts and reports are stored on an encrypted members-only website that you will be able to access at any time.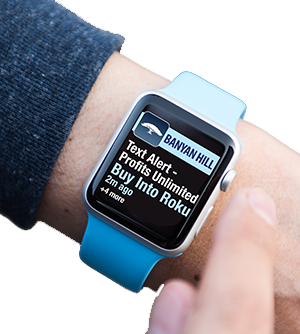 Text Alerts:
To ensure you never miss an important trade, my team will issue a text alert any time you need to make a timely portfolio update.
(NOTE: I recommend signing up for SMS text alerts. Anytime I send a new trade, you'll get a text message telling you it's been posted to our private portal and sent to your inbox. This way you won't miss a trade if you're away from your email.)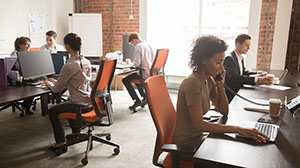 A Dedicated Customer Service Team:
We have a team of highly trained and educated customer care representatives who can help you with any questions you may have about your new subscription. We've got your back!
Subscribe Today and Take 50% Off!
Right now, the price on our website for Paul's Secret Portfolio is $4,995.
But because you watched Rebel Stocks Exposed: The Revolution Is Here, you can lock in a full year of unrestricted access to Paul's Secret Portfolio for just $2,495.
Now please understand … at this deeply discounted rate, we cannot offer a refund.
But if, for any reason, you are not completely satisfied, just give us a call to cancel and you'll receive a credit toward a service that fits you best.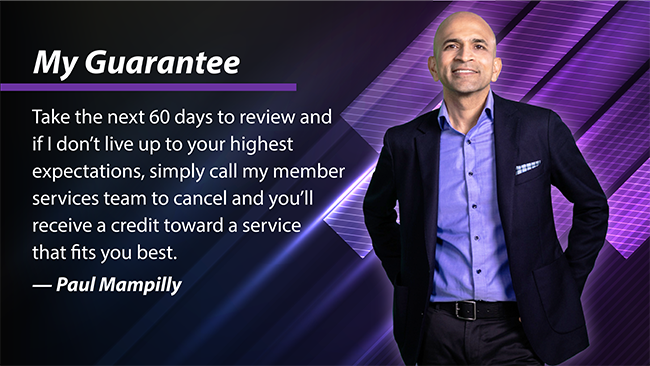 And because I'm so confident you'll love Paul's Secret Portfolio, I'll gladly offer this ironclad satisfaction guarantee for 60 days to give full protection to your decision.
Plus, that's not all…
When You Sign Up Today, You Also Get the Details of 1 of the
Most Exciting Stocks

I've Ever Recommended…

During the broadcast, I also mentioned a highly advanced tech firm that's using cutting-edge AI technology to help solve the global supply chain disruption.

We're talking about a key piece of technology… AI is essential to many of the world's biggest companies. Companies like Google, Tesla, Amazon … even NASA.

It's the lifeblood of everything from internet searches to social media to robotics, aviation, self-driving cars and more — future-focused industries that should only get bigger over the next few years.

And based on all my detailed research, I believe this exceptional company is laser-focused on capturing a large part of that market.

Put all that together, and you get one of the best trade setups in the market right now.

And whether or not you choose to stay, you'll keep all three world-class research reports mentioned during the broadcast…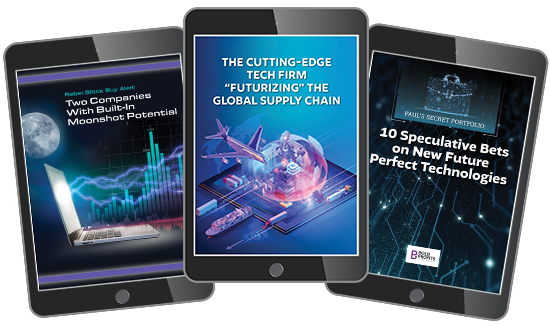 Rebel Stock Buy Alert: Two Companies With Built-In Moonshot Potential

All my research on these two companies … their industry … and this incredible opportunity.

10 Speculative Bets on New Future Perfect Technologies

Details of 10 incredible companies which are leading the major tech mega trends that are changing the world right before our eyes.

The Cutting-Edge Tech Firm "Futurizing" the Global Supply Chain

Focused on a highly advanced tech firm with estimated revenue growth of 344% by next year, and one of the best trade setups in the market today.
That's 13 of my best stock recommendations — yours to keep no matter what.
So Here's Your Chance
For just a few more minutes, you can lock in your 50% discount to Paul's Secret Portfolio.
It's your chance to get unfettered access to the names and ticker symbols of all the incredible stocks you've heard about today.
And don't forget … you'll also get my hottest recommendations for the next 12 months.
So if you're ready to come on this exciting — and potentially highly profitable — journey with me, just fill out the brief order form below, and we'll be on our way.
I hope you join me.
Simply Fill Out the Form Below or Call 877-422-1888 to Get Started for
Only $2,495